Food Service and Processing
Arrow formulates a full line of food service and food processing cleaning products to provide a safe, healthy environment for customers and teams. Get high performance, targeted sanitation solutions for every surface in food service establishments, from the front to the back of the house.
Automatic Warewash
Arrow automatic warewash products keep dishes and utensils sparkling!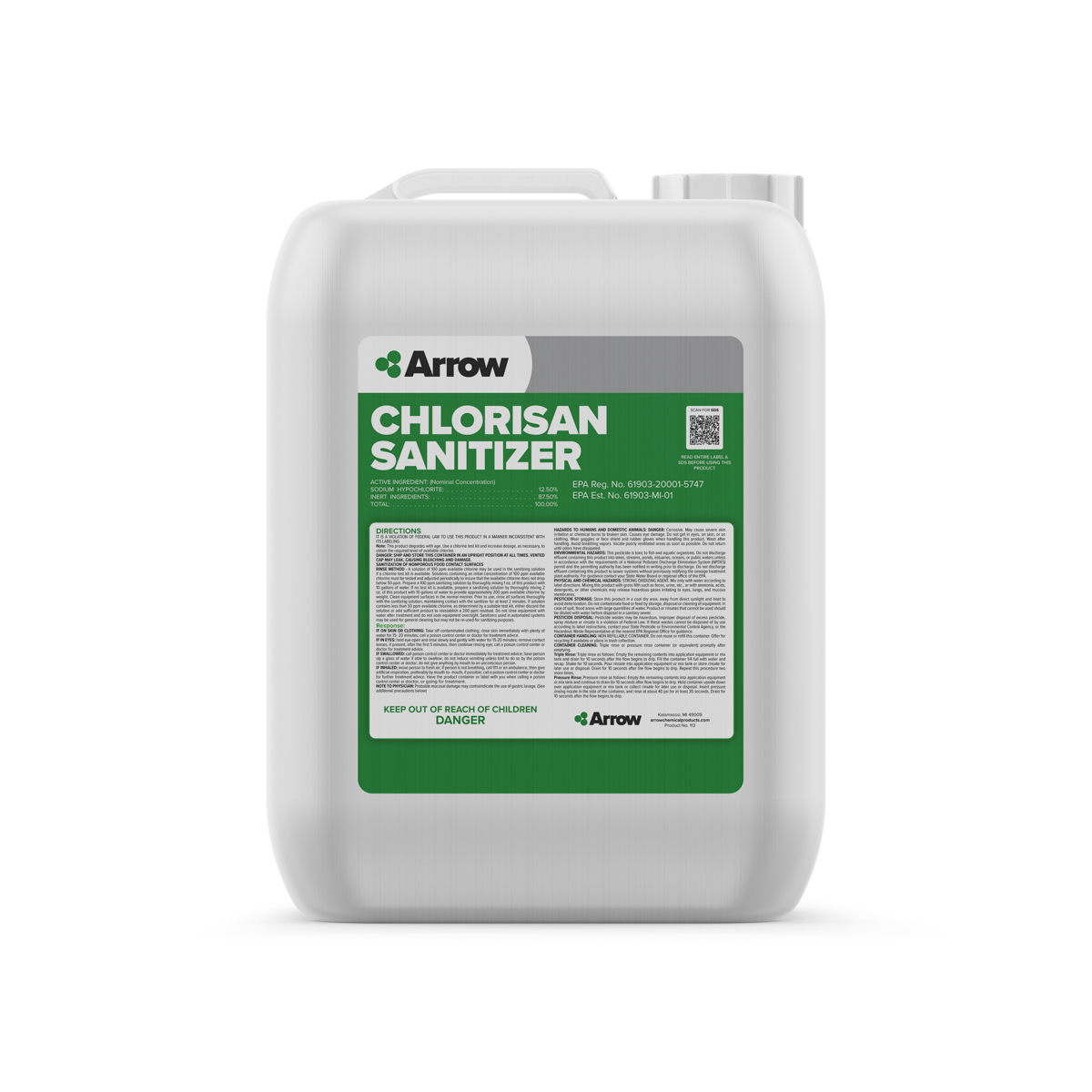 Arrow 113 CHLORISAN sanitizer Formulated to remove stains where other products fail, Arrow's concentrated liquid chlorine bleach sanitizing compound also promotes destaining and free rinsing. Chlorisan is ideal in low temperature warewashing machines, food processing,...
Drain and Grease Trap Care
Keep kitchens running smoothly with powerful drain and grease trap cleaning solutions.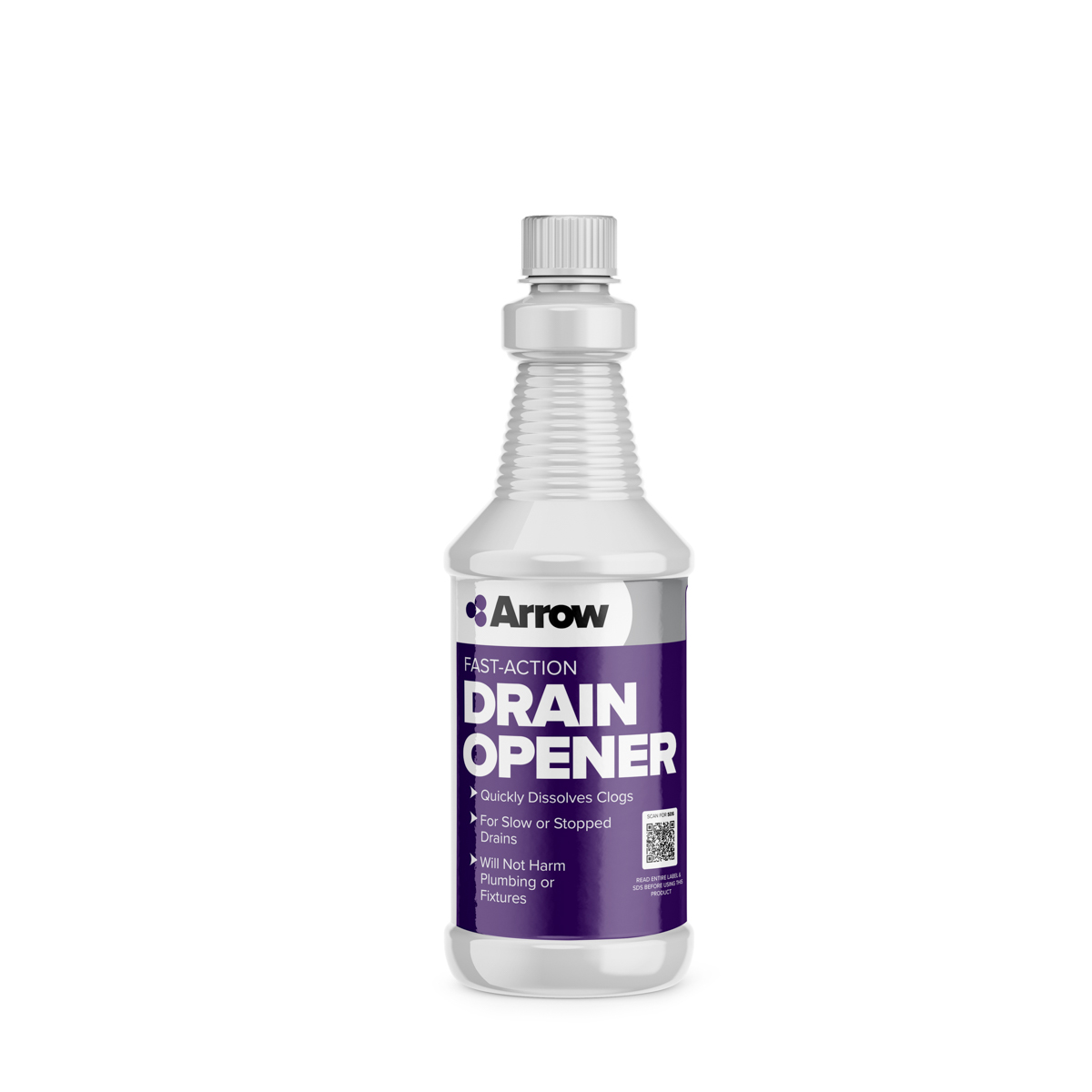 Arrow 505 FAST ACTION DRAIN OPENER Arrow's powerful Fast Action Drain Opener lives up to its name by dissolving and removing obstructions caused by hair, grease, paper, matches, rags, and organic matters. No need to remove standing water; just pour directly into...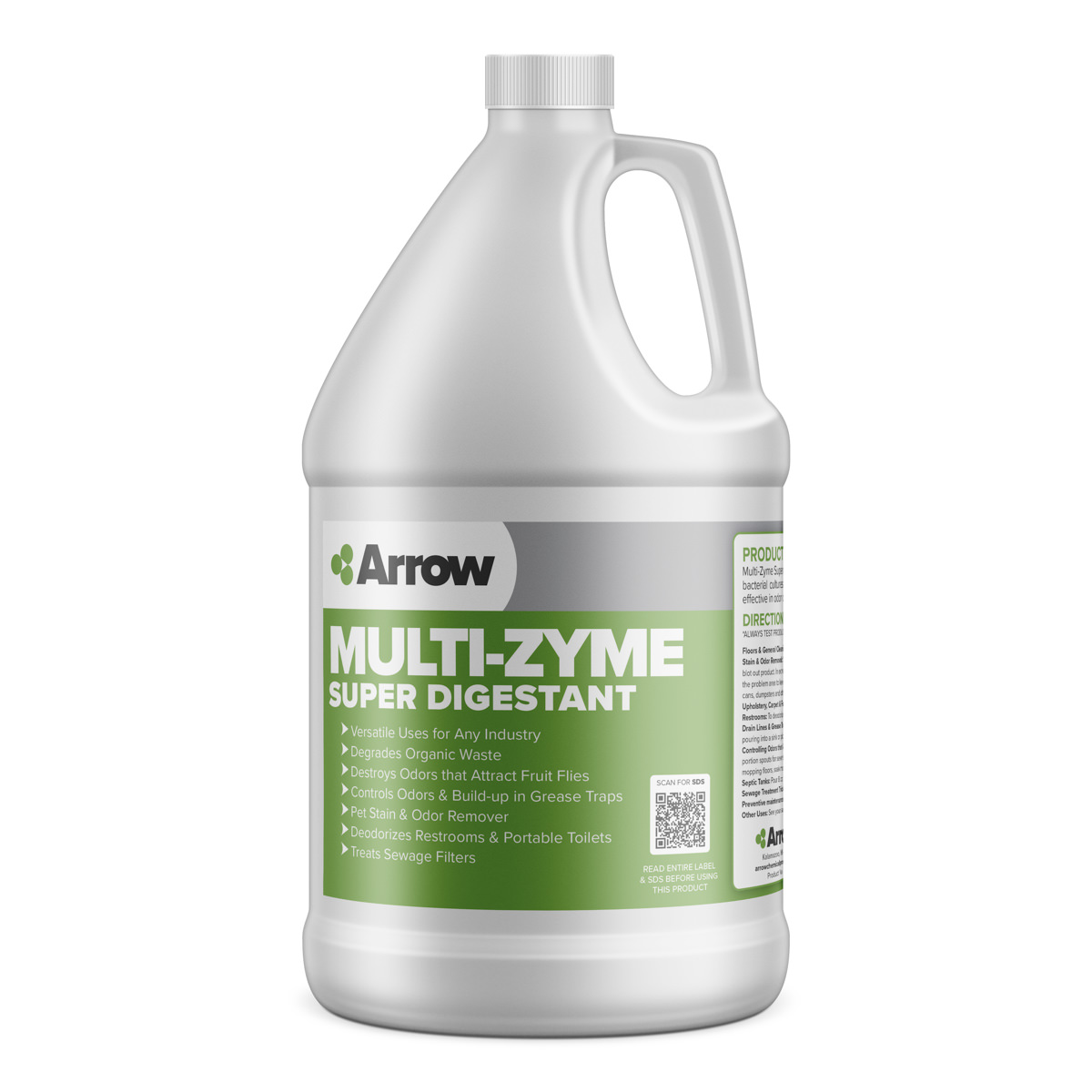 Arrow 436 Multi-Zyme Super Digestant Arrow's Multi-Zyme Super Digestant is a multi-purpose enzymatic cleaner that's extremely effective for controlling odor and degrading organic waste. The formula is a special blend of enzyme producing bacterial cultures and...
Food Processing
Arrow's food processing cleaning solutions effectively kill bacteria, disinfect, and sanitize environments.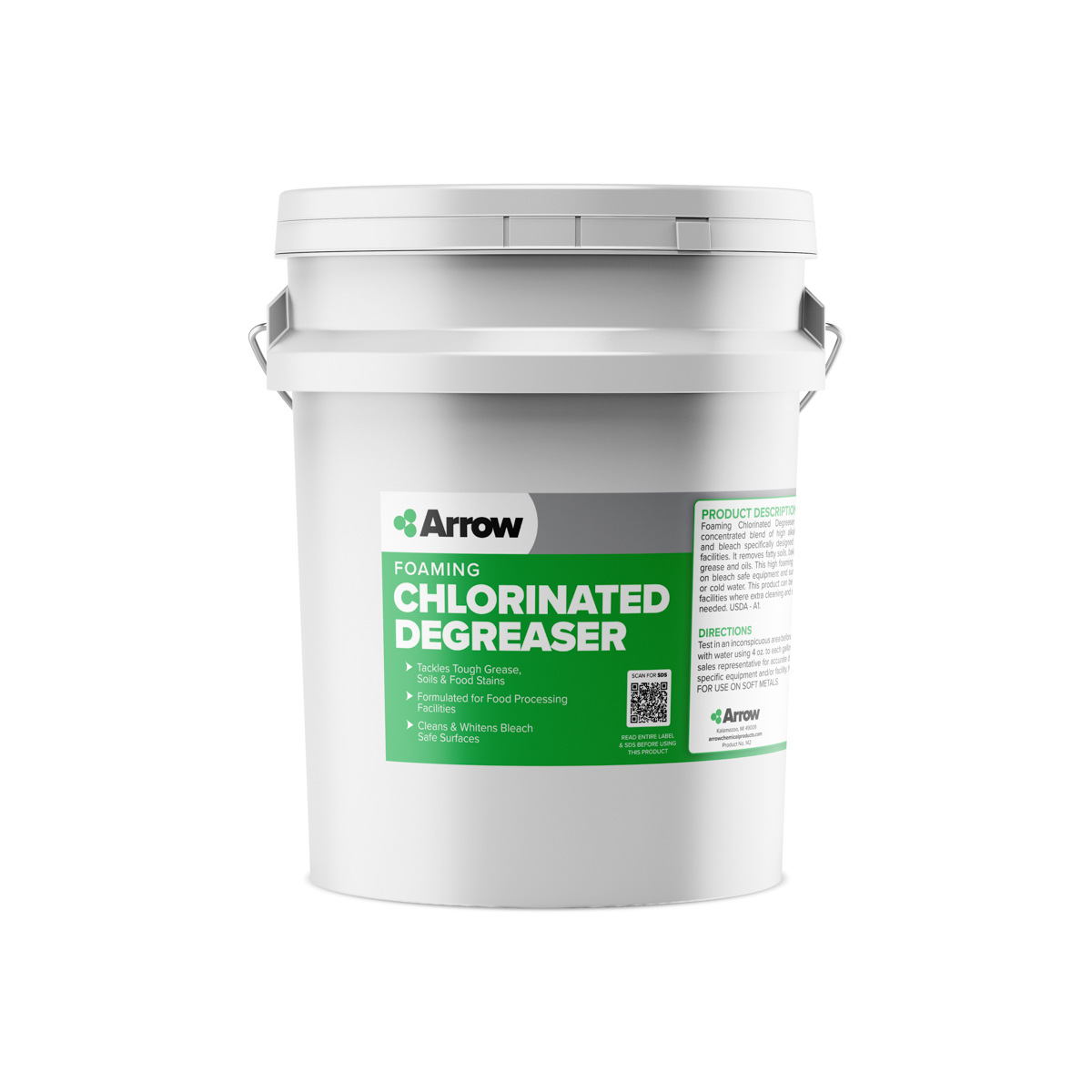 Arrow 142 Foaming Chlorinated Degreaser Chlorinated Degreaser from Arrow is a heavy duty, concentrated blend of high alkaline cleaning agents and bleach designed for food processing facilities to remove fatty soils, baked on carbon, blood, grease and oils. A high...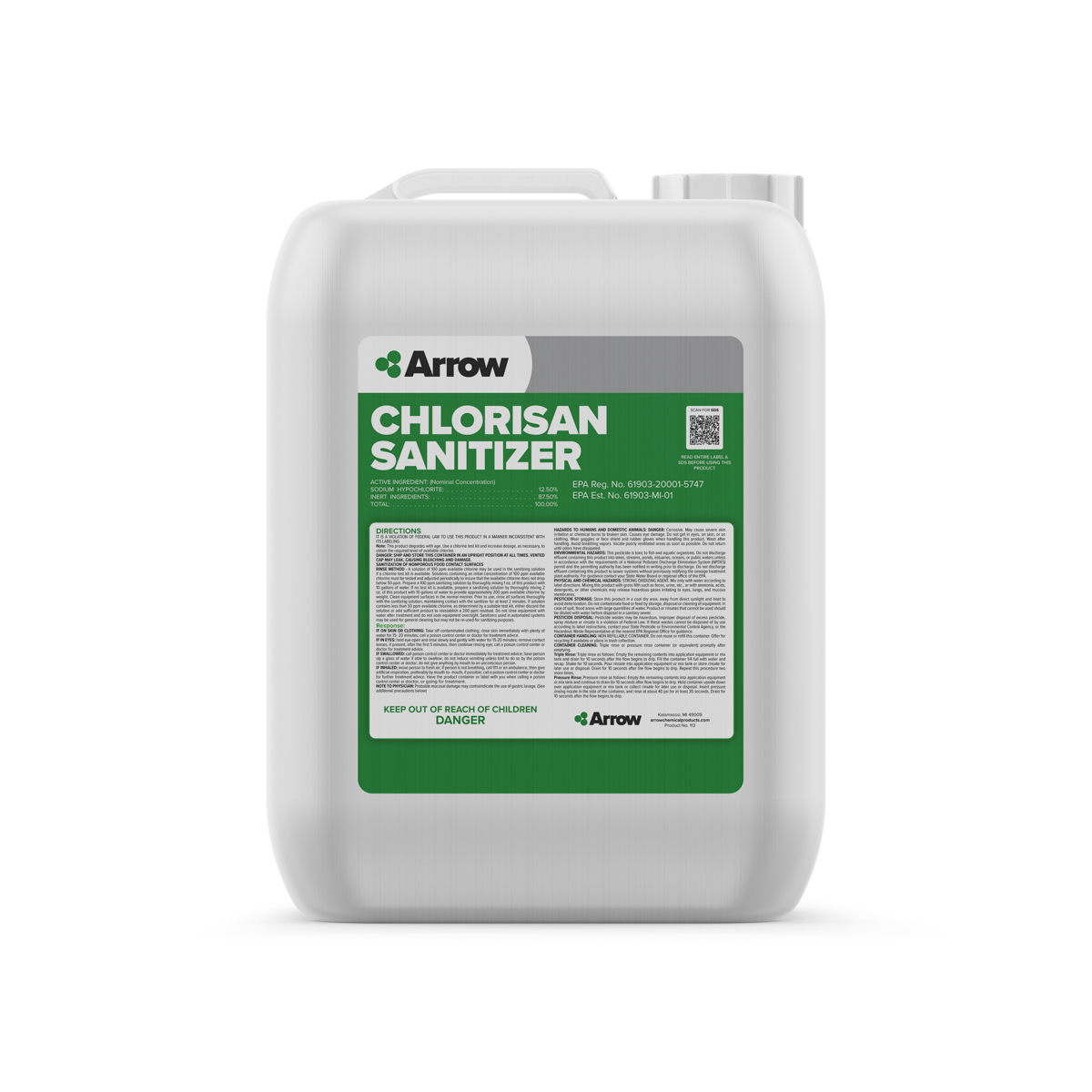 Arrow 113 CHLORISAN sanitizer Formulated to remove stains where other products fail, Arrow's concentrated liquid chlorine bleach sanitizing compound also promotes destaining and free rinsing. Chlorisan is ideal in low temperature warewashing machines, food processing,...
Food Surface Sanitizers
Food grade surface sanitizers from Arrow tackle bacteria, spores, and viruses, and bacteria in all areas of a food surface establishment.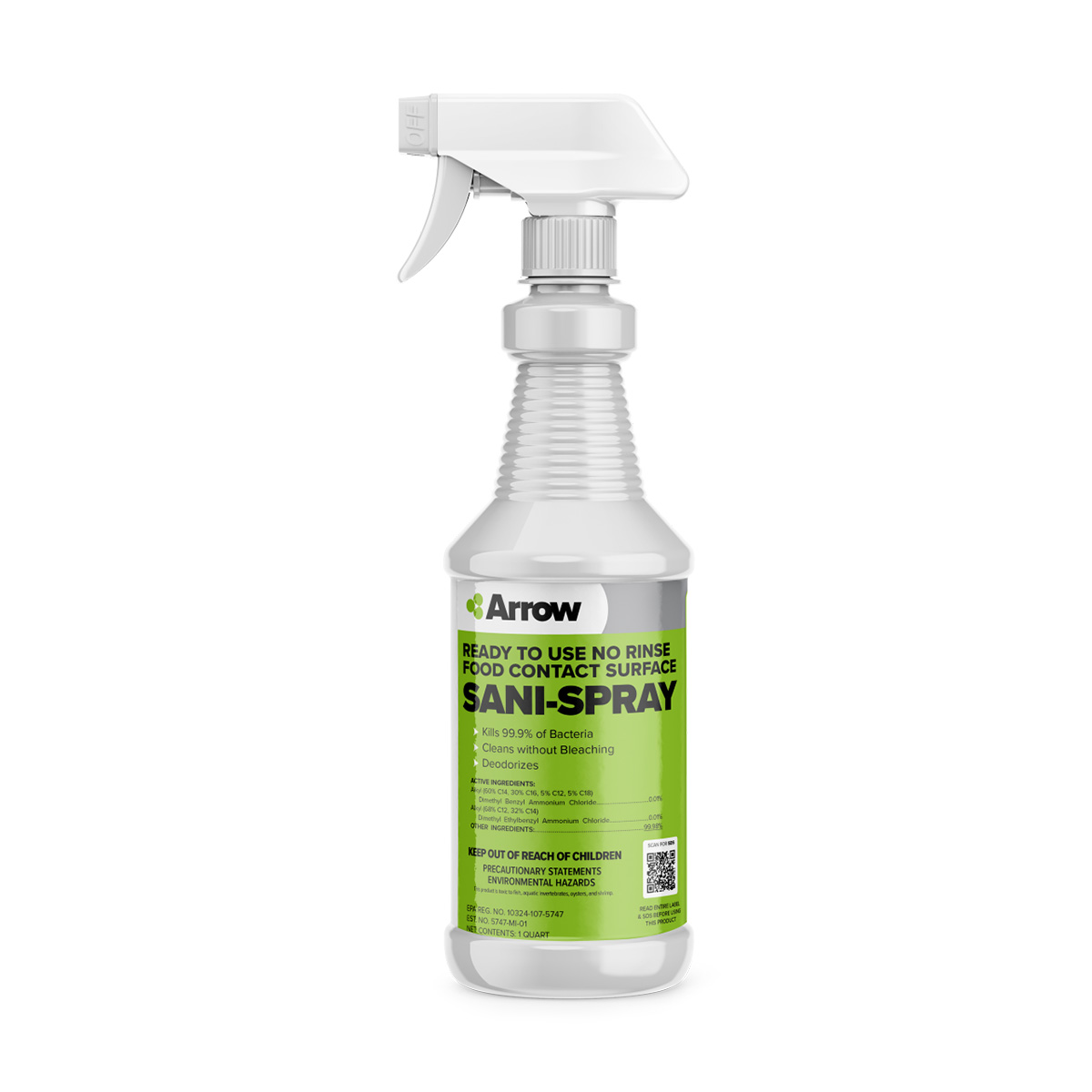 Arrow 151 Sani-Spray Arrow's Sani-Spray is a no rinse, ready-to-use product that delivers a convenient, 200-ppm active quat solution. It eliminates 99.999% of bacteria* in 60 seconds! Developed for food service establishments, schools, institutions, bars, restaurants,...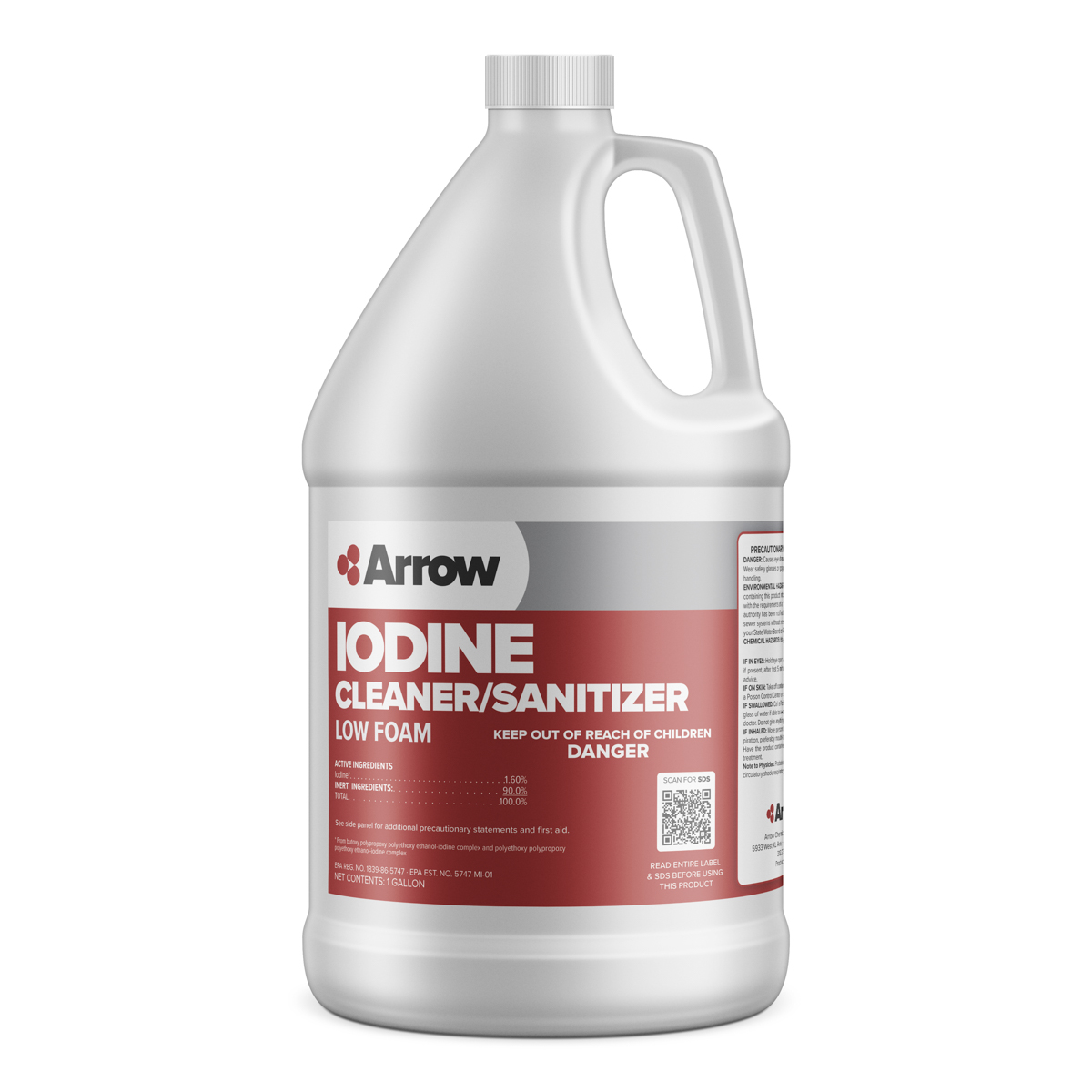 Arrow 149 Iodine cleaner/Sanitizer Iodine Sanitizer from Arrow is a low-foaming cleaner/sanitizer for use in automatic dish machines outfitted with appropriate injector type equipment in commercial restaurants and other food handling institutions. The...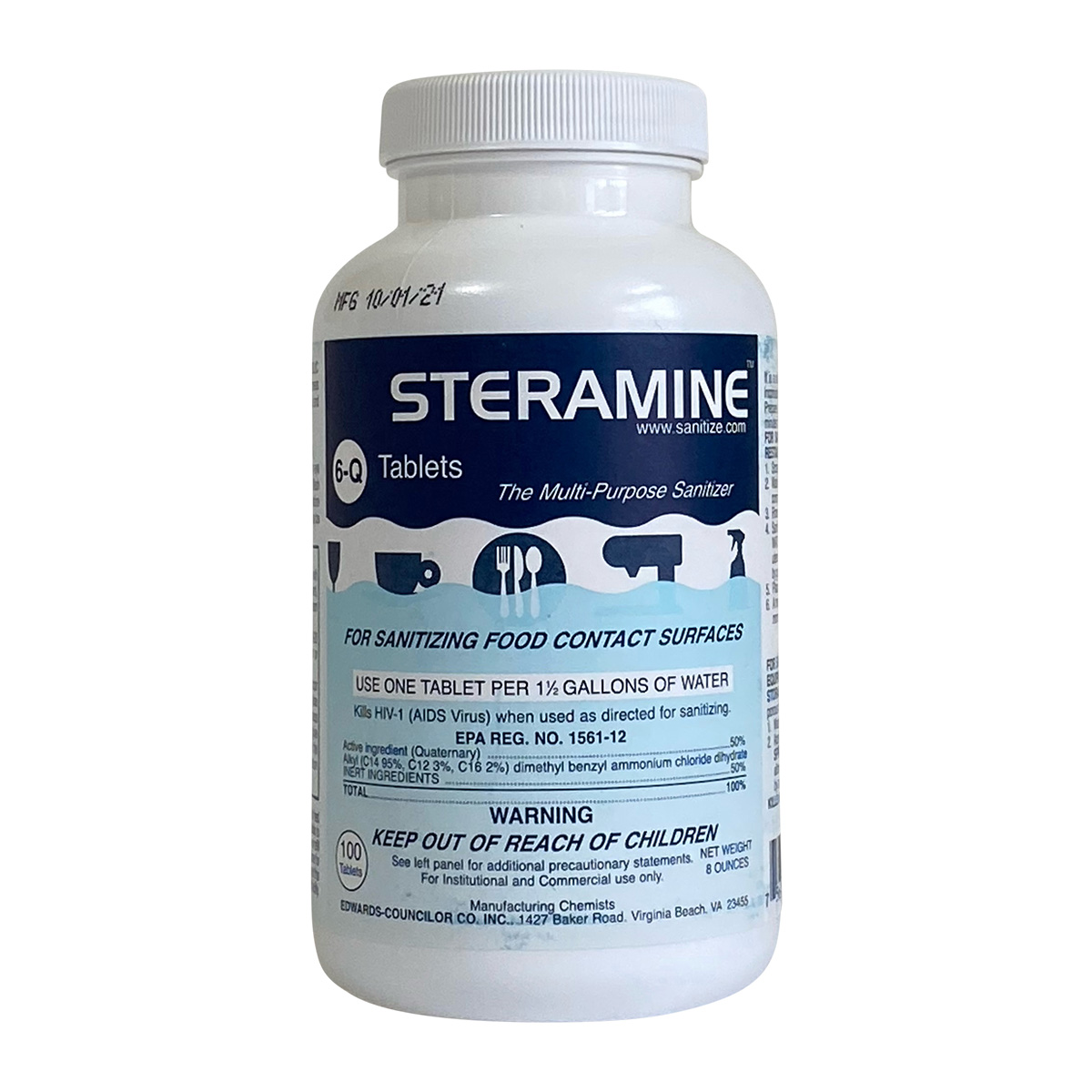 Arrow 148 sani-Tabs Arrow's Sani-Tabs are concentrated, multi-purpose quaternary based sanitizing tablets. Tablets dissolve in water, producing a distinct, pale blue sanitizing solution which tells operators and inspectors at a glance that this sanitizer is present....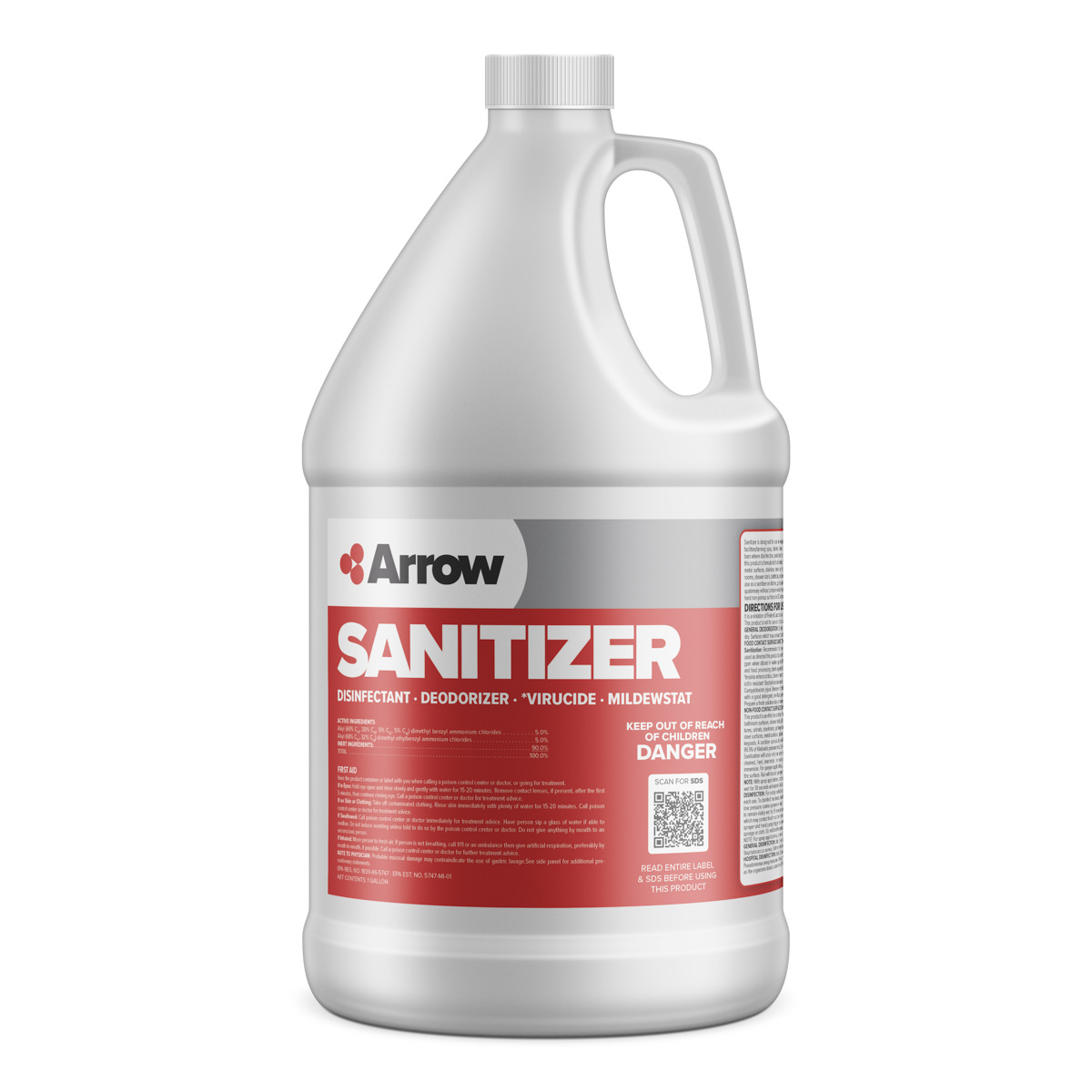 Arrow 150 Sanitizer Arrow Sanitizer is designed specifically for food processing plants, dairies, restaurants, bars, animal quarters, kennels and institutions where disinfection, sanitization, and deodorization is vital to creating a healthy environment. Effective and...
Glassware Cleaners
Use Arrow's glassware solutions to sanitize foodservice and bar glasses, delivering sparkling, smudge-free results!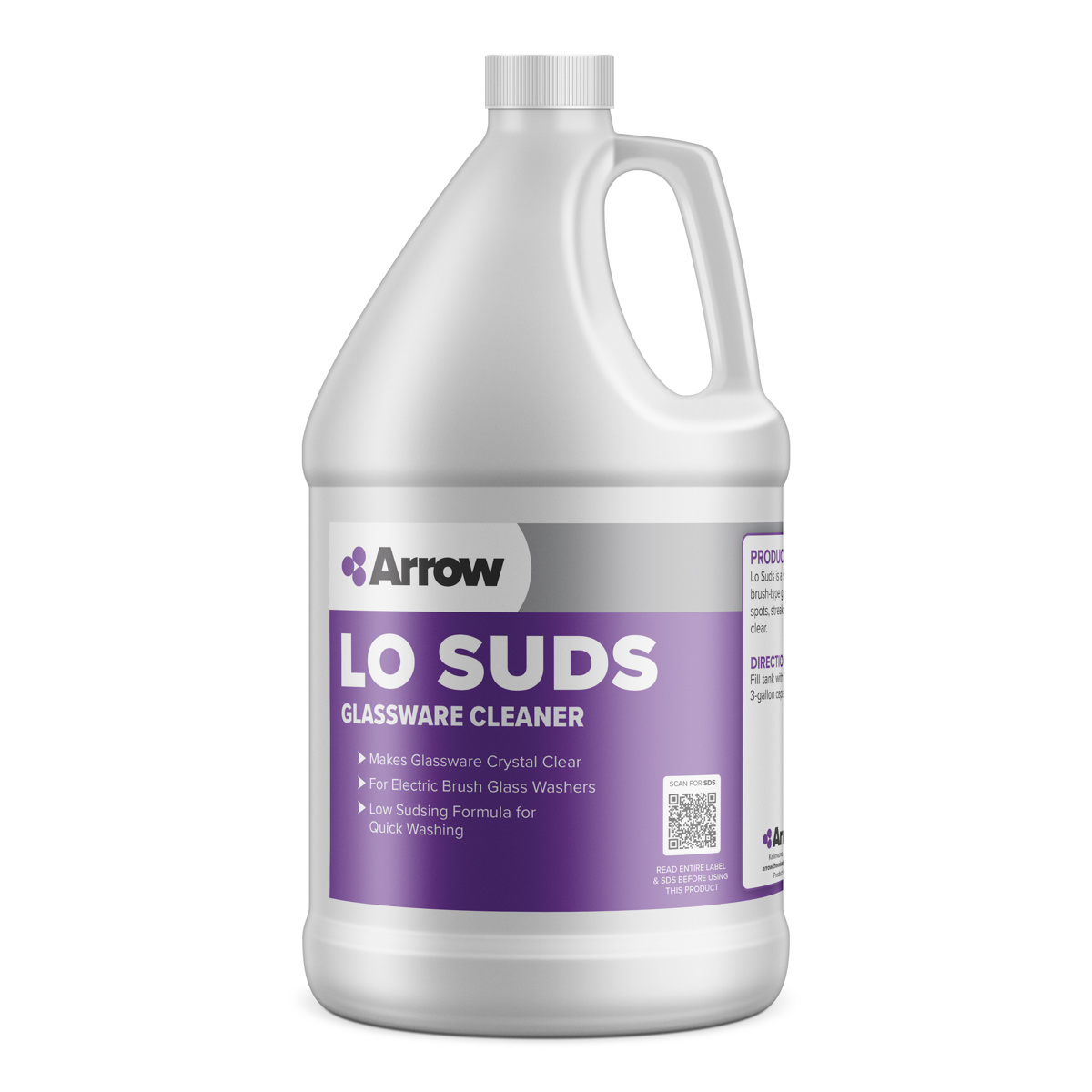 Arrow 146 Lo Suds Glassware Cleaner Arrow's Lo Suds is ideal for electric brush glassware washers. Controlled suds leave no spots, streaks, smudges, or film. Get crystal clear glassware with no manual handwashing required! Sanitize dishes and utensils after washing...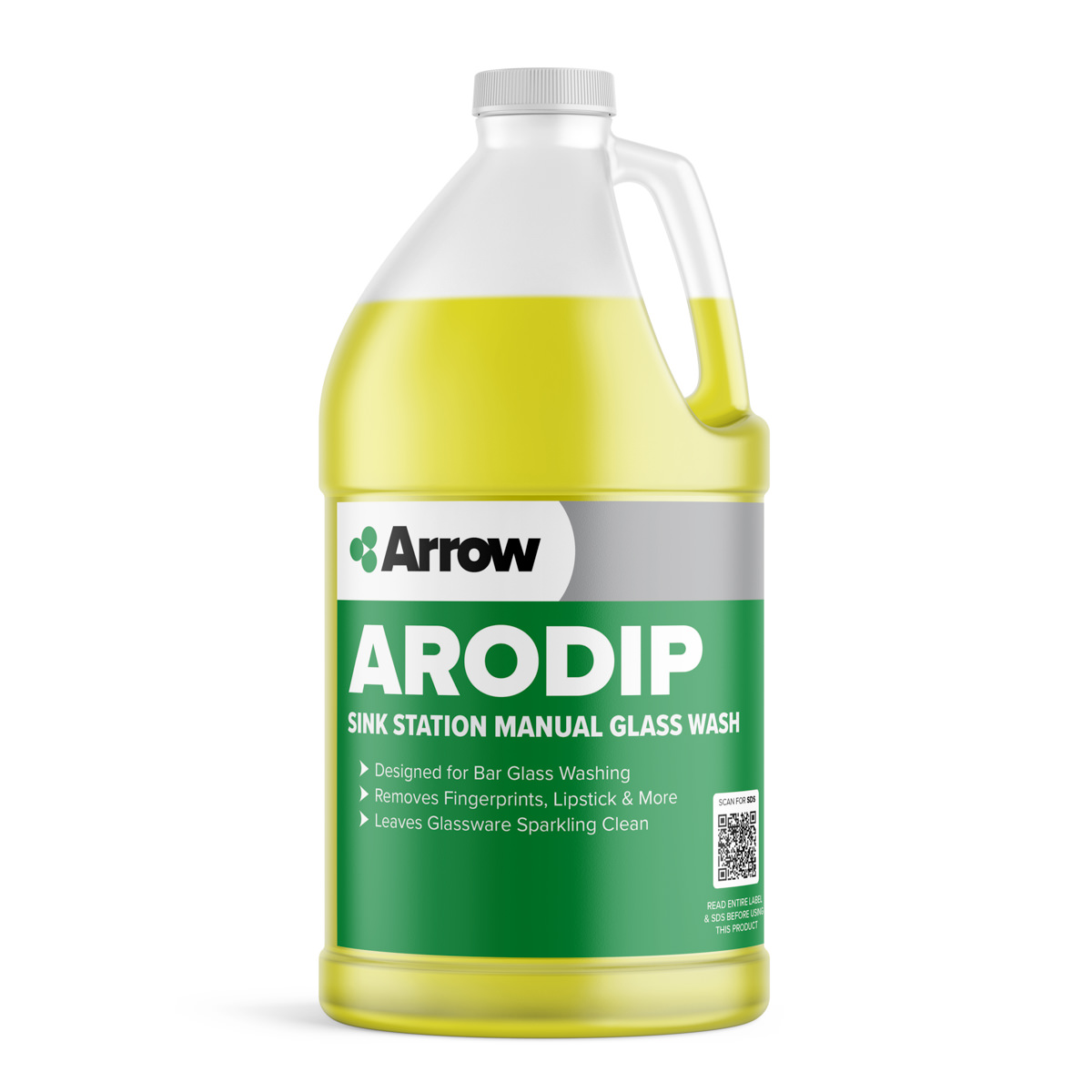 Arrow 140 AroDip Sink Station Manual Glass Wash AroDip from Arrow is liquid concentrate for manual cleaning of glassware, cooking utensils, silverware, plasticware, pots, pans, and dishes. Leaves glassware with a polished look without spots or soapy film. No toweling...
Hand Dishwashing
Arrow's manual dishwashing detergents are ideal for thoroughly cleaning hand-wash-only items like non-stick pots and pans, aluminum cookware, and kitchen knives.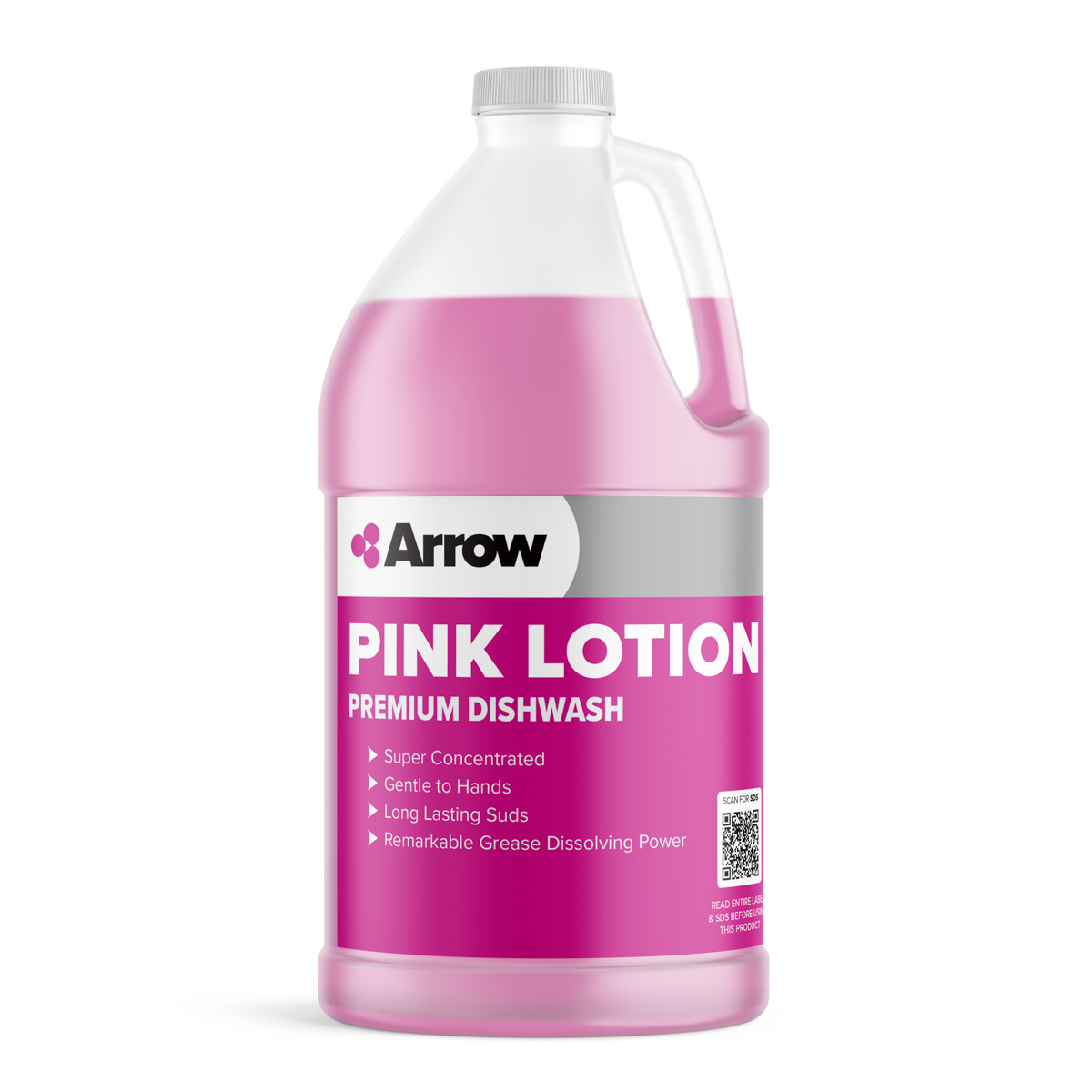 Arrow 167 pink lotion premium dishwash Arrow's premium hand dishwash solution provides food service operators with a top-quality, highly concentrated, moisturizing cleaner with outstanding grease dissolving power. With long-lasting, stable suds, and free-rinsing...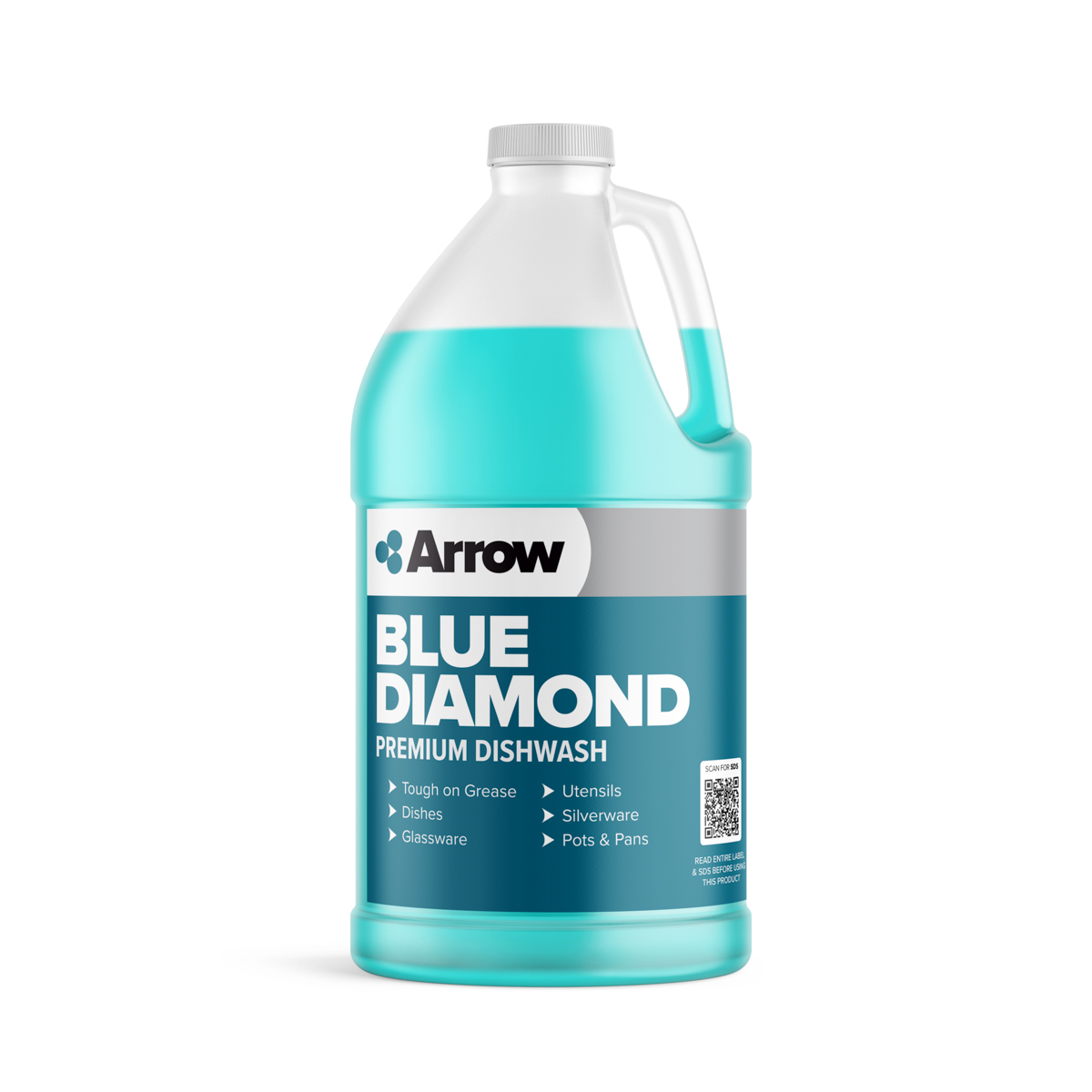 Arrow 161 BLUE DIAMOND Premium dishwash Blue Diamond from Arrow delivers concentrated, thorough cleaning and effective grease-dissolving power with long-lasting, stable suds. The free-rinsing formula for manual washing leaves no streaks or spots and contains...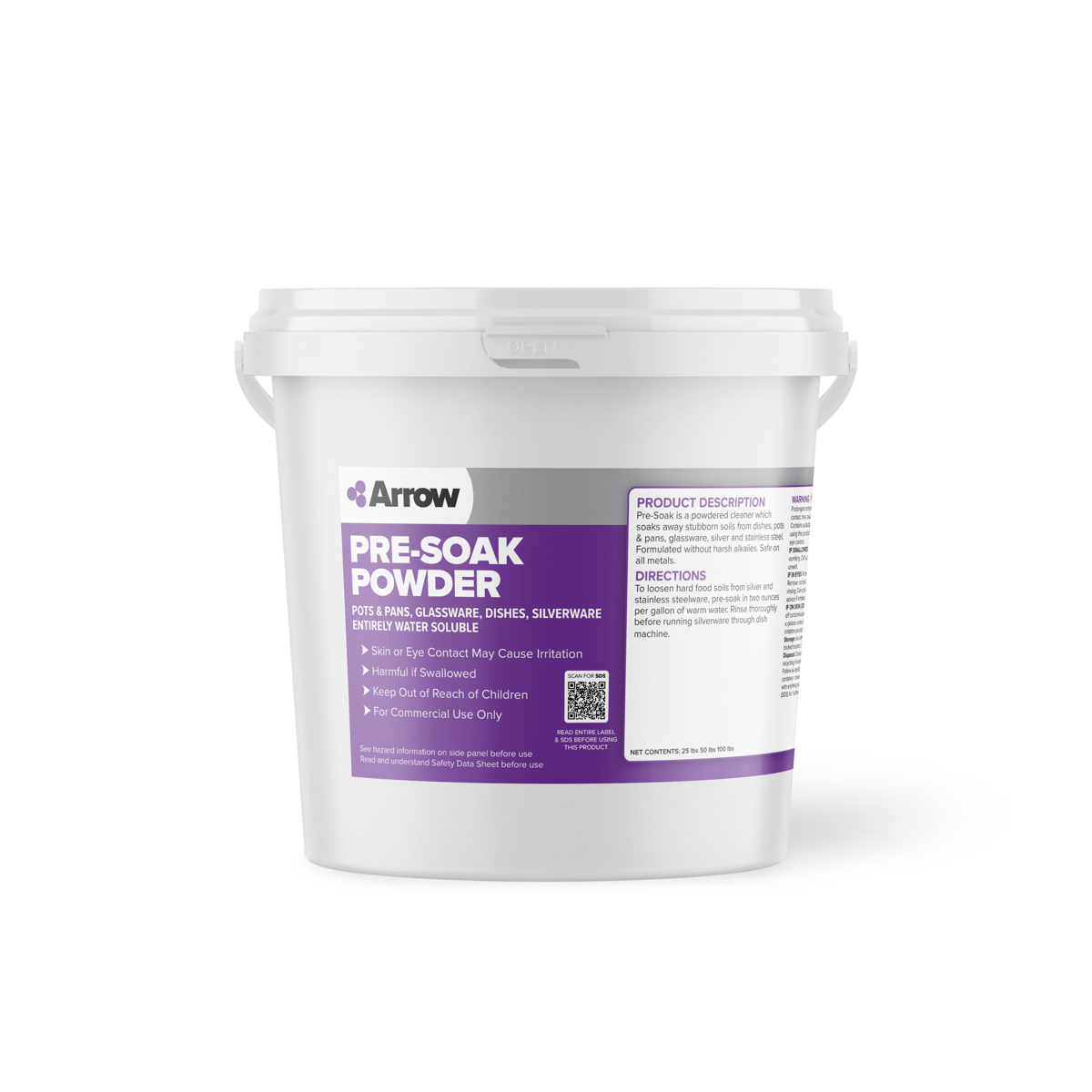 Arrow 126 PRE-SOAK POWDER Arrow's Pre-Soak Powder provides heavy-duty cleaning for cookware, bakeware, dishes, utensils, silverware, and stainless steel. Just 1-2 oz per gallon of hot water easily soaks away stubborn soil without harsh alkalis. Pre-Soak Powder's...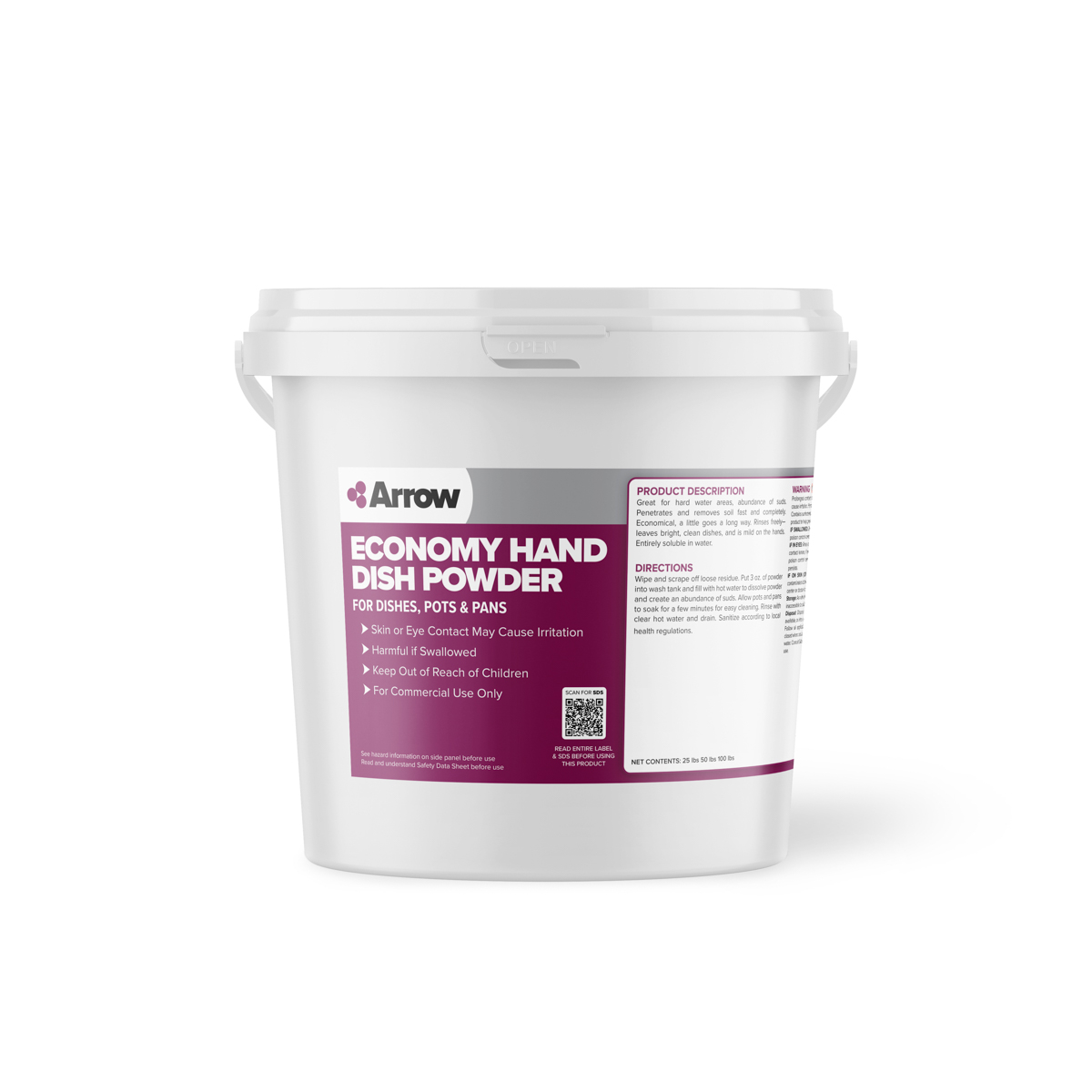 Arrow 125 ECONOMY HAND DISH POWDER Economy Hand Dish Powder from Arrow is ideal for manual washing, delivering strong cleaning power with extra suds. This mild detergent contains no harmul alkalis, abrasives or fillers, cleaning glassware, stainless steel, silverware,...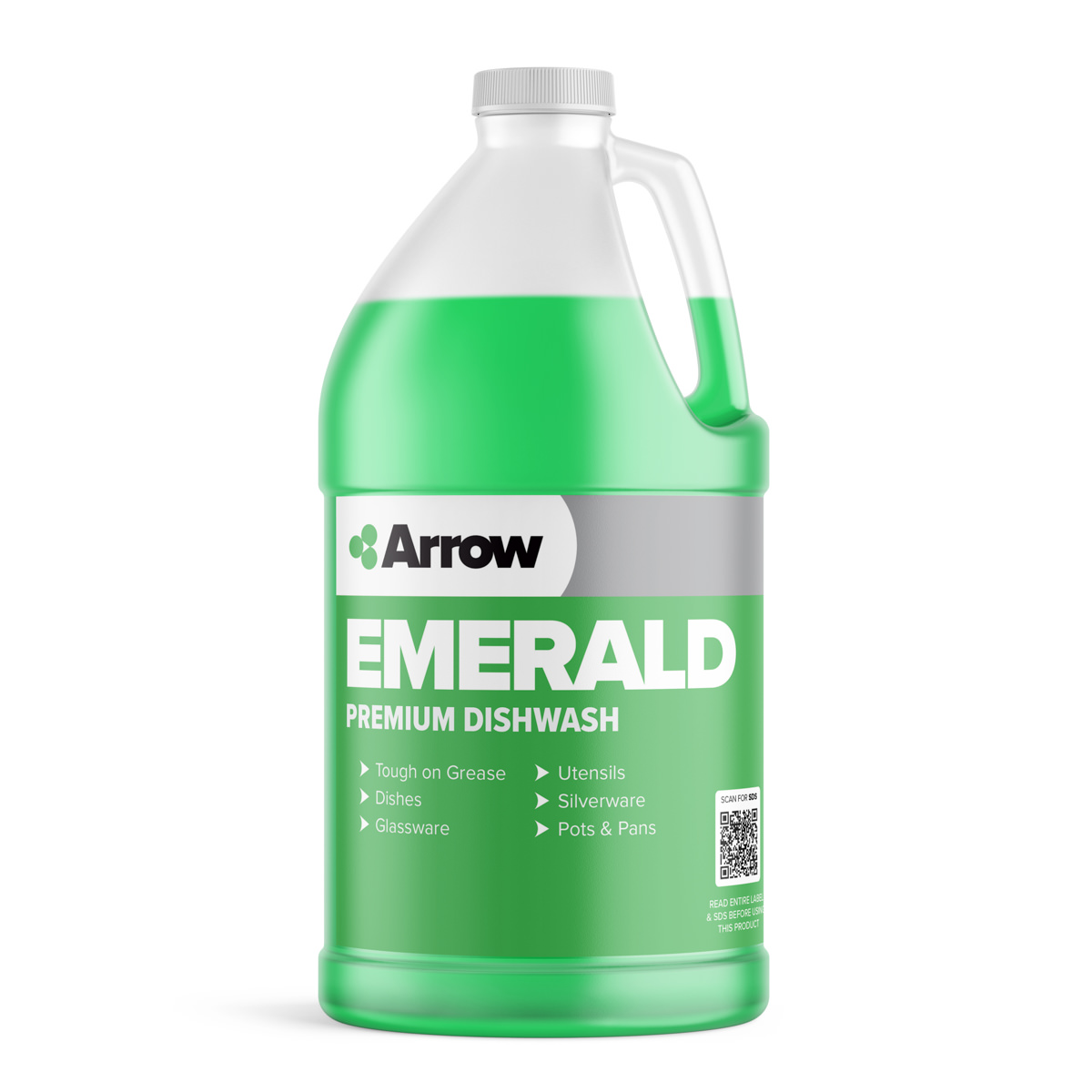 Arrow 169 EMERALD PREMIUM DISHWASH Arrow's Emerald Premium Dishwash is a top quality, highly concentrated liquid with effective grease dissolving power. Just a small amount provides long lasting, stable suds. Emerald is free-rinsing, leaving no streaks or spots. It...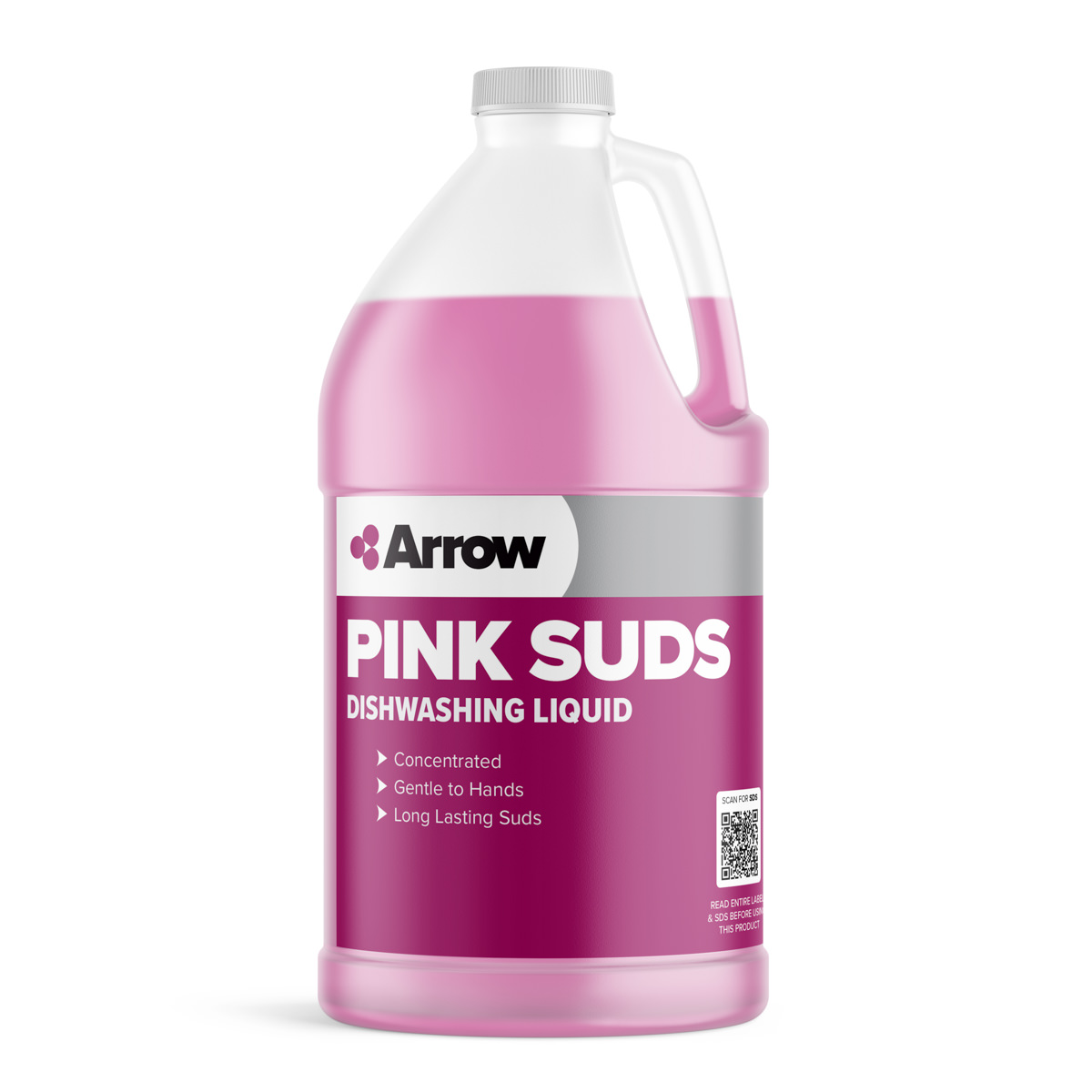 Arrow 166 PINK SUDS DISHWASHING LIQUID Pink Suds from Arrow is formulated for institutional and industrial use. Clean pots and pans thoroughly and get dishes and glassware sparkling with this concentrated detergent that's gentle on hands. Use just ½-1 oz per gallon of...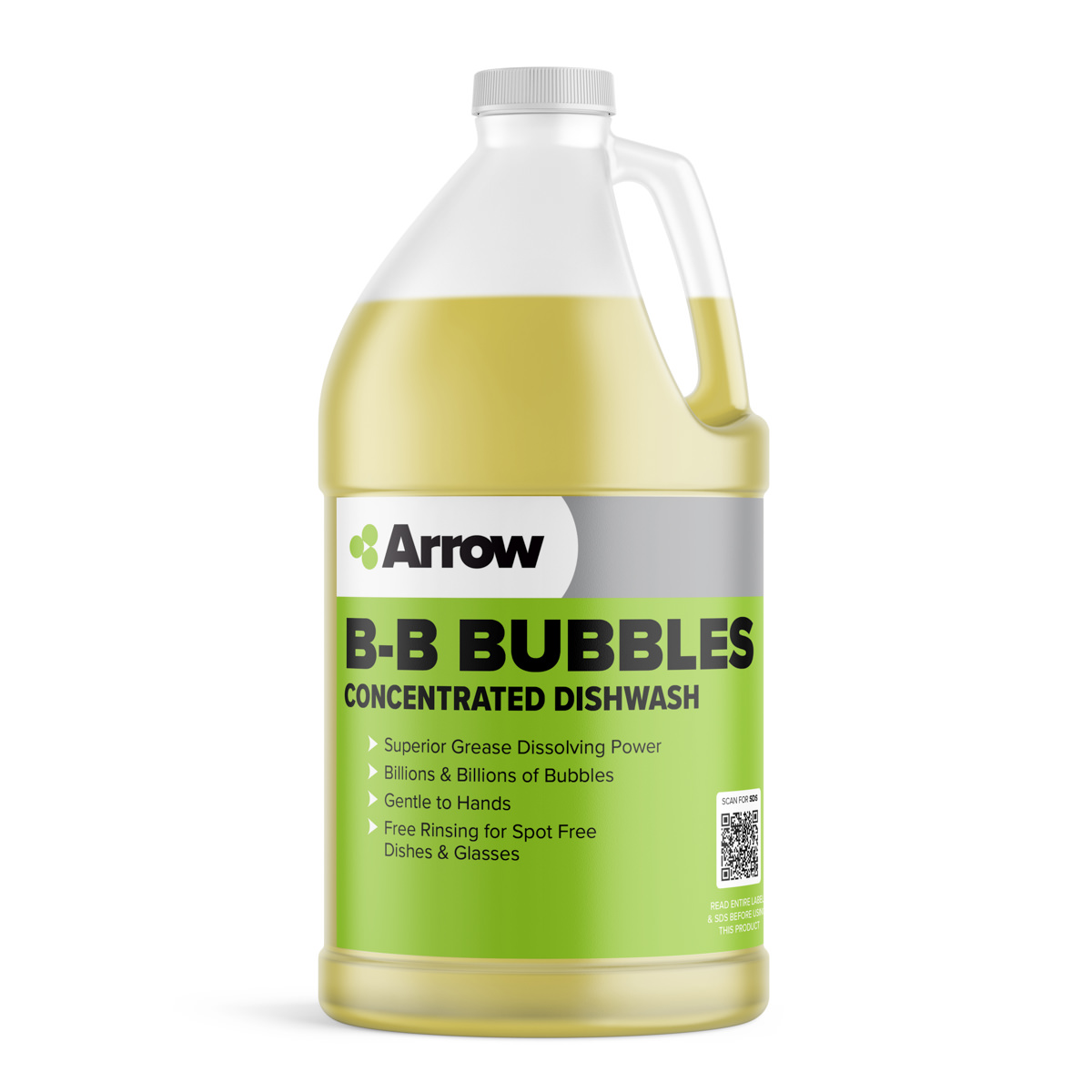 Arrow 165 B-B BUBBLES CONCENTRATED DISHWASH B-B Bubbles from Arrow is a concentrated liquid with rich, lasting suds that's ideal for hand washing dishes. Use this USDA approved detergent as a a general cleaning agent on all surfaces. Mild on hands, tough on soils....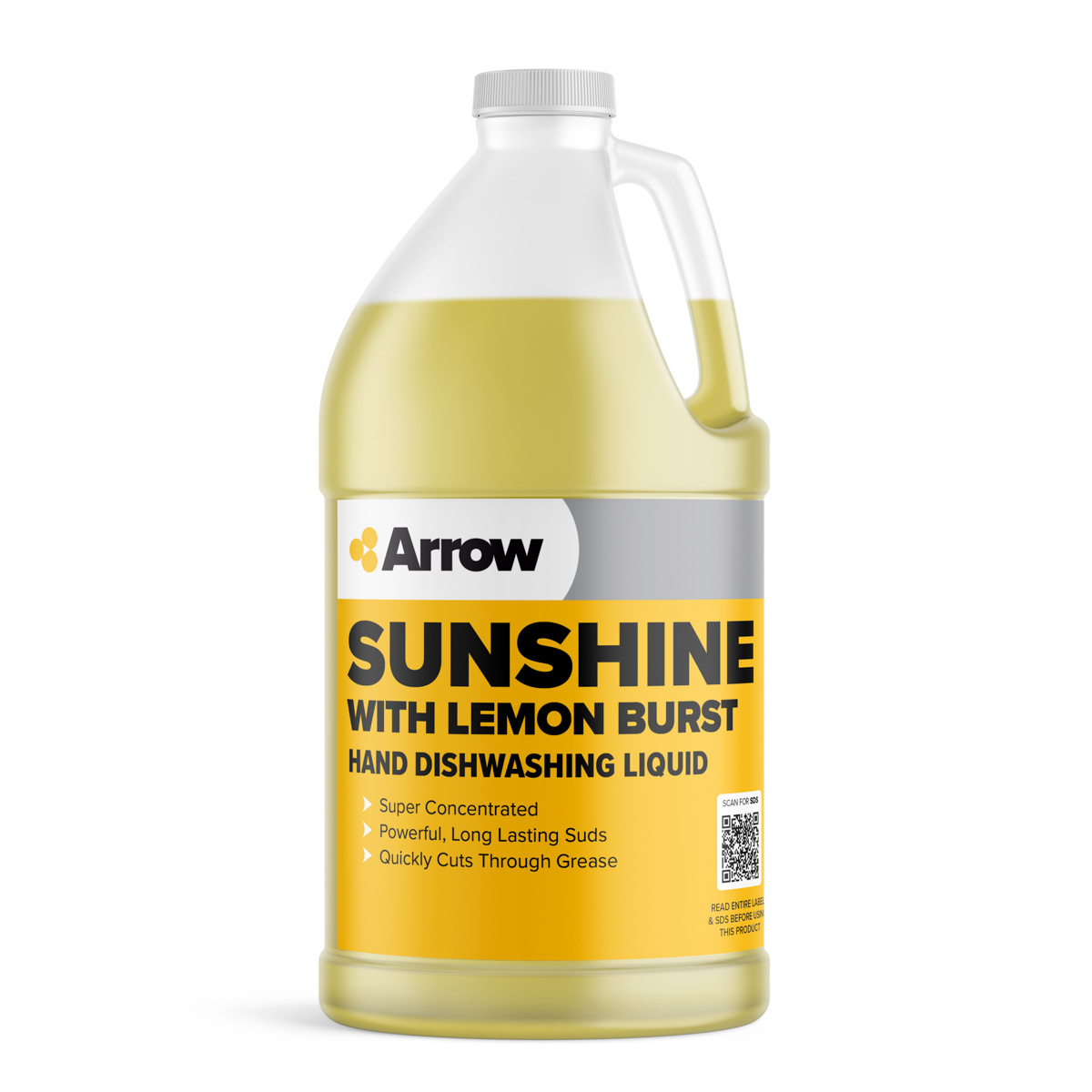 Arrow 162 SUNSHINE WITH LEMON BURST HAND DISHWASHING LIQUID Arrow's Sunshine has a fresh lemon burst fragrance that leaves dishes sparkling clean. The long lasting sudsing power quickly cuts through the toughest grease with a super-concentrated formula, so a little...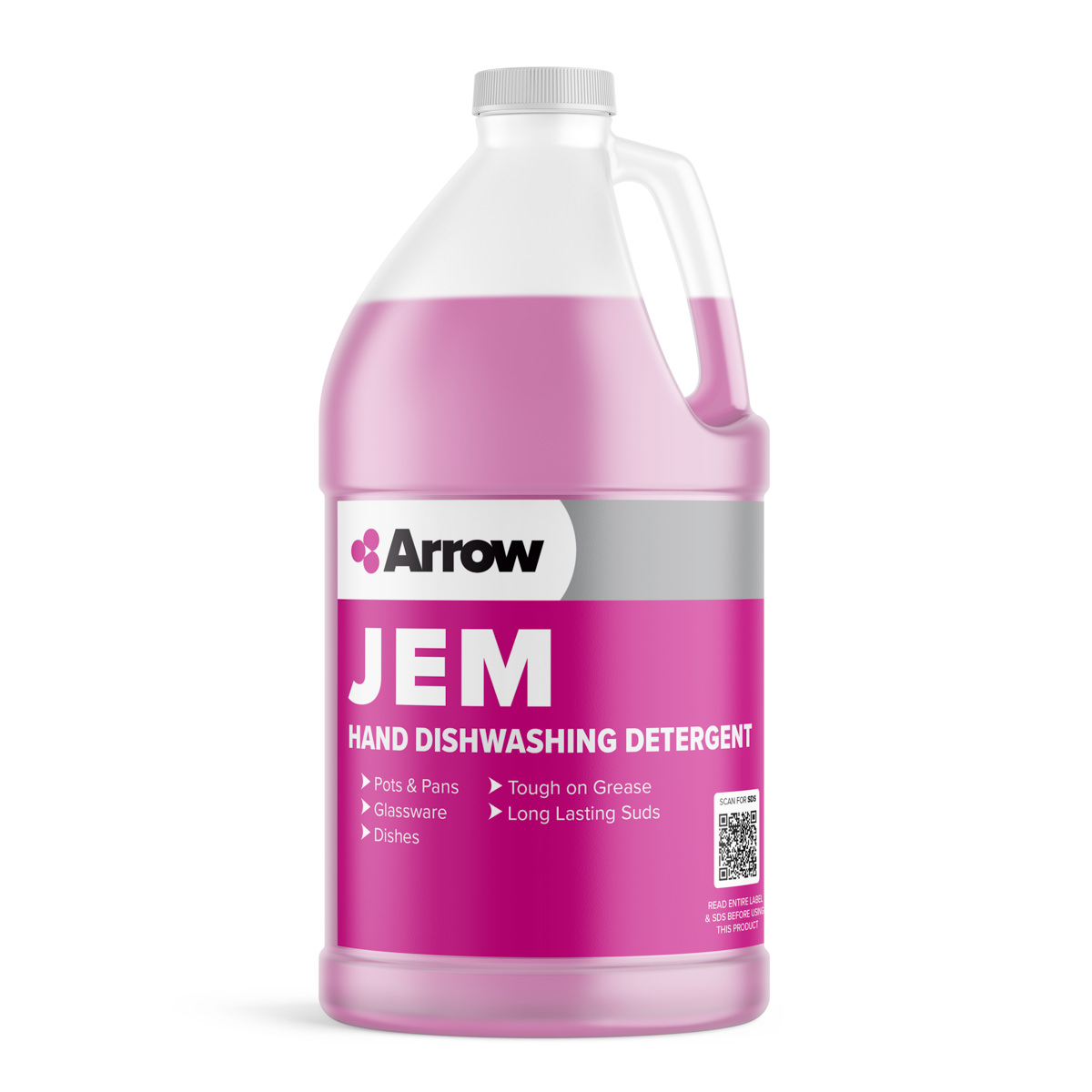 Arrow 160 JEM HAND DISHWASHING DETERGENT Arrow's Jem Hand Dishwashing Detergent is a concentrated detergent formulated for institutional and industrial use. This economical pink hand dishwash is gentle on the hands but effective on pots, pans, dishes, glassware, and...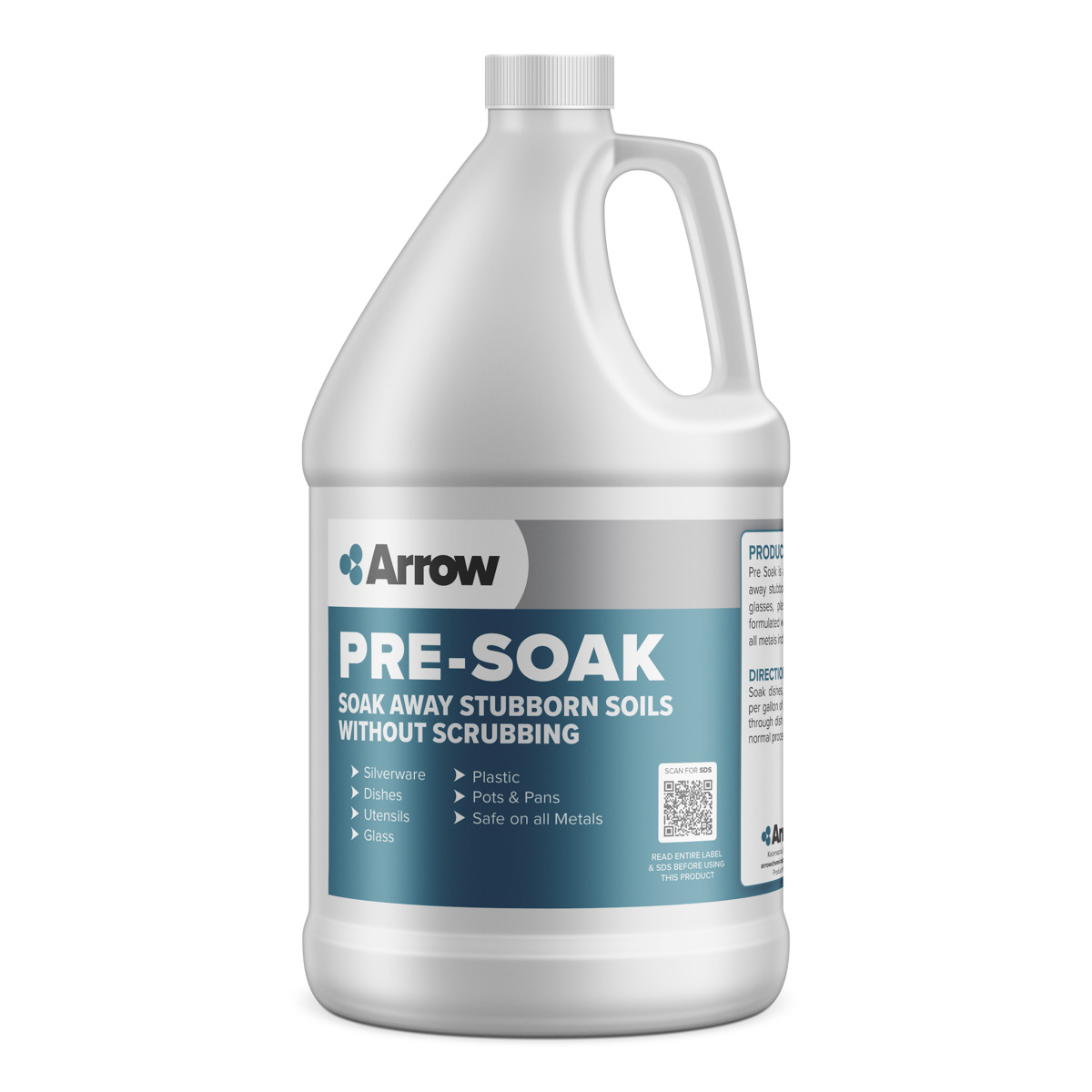 Arrow 114 PRE-SOAK Soak away stubborn soils without scrubbing Arrow's Liquid Presoak easily tackles stubborn soils from silver, stainless steel, pots and pans. Specifically formulated without harsh alkalies, liquid presoak is safe to use on all metals including...
Kitchen Cleaners
Heavy-duty kitchen cleaning solutions from Arrow tackle the toughest jobs in food service environments, from degreasing and deliming to polishing and disinfecting.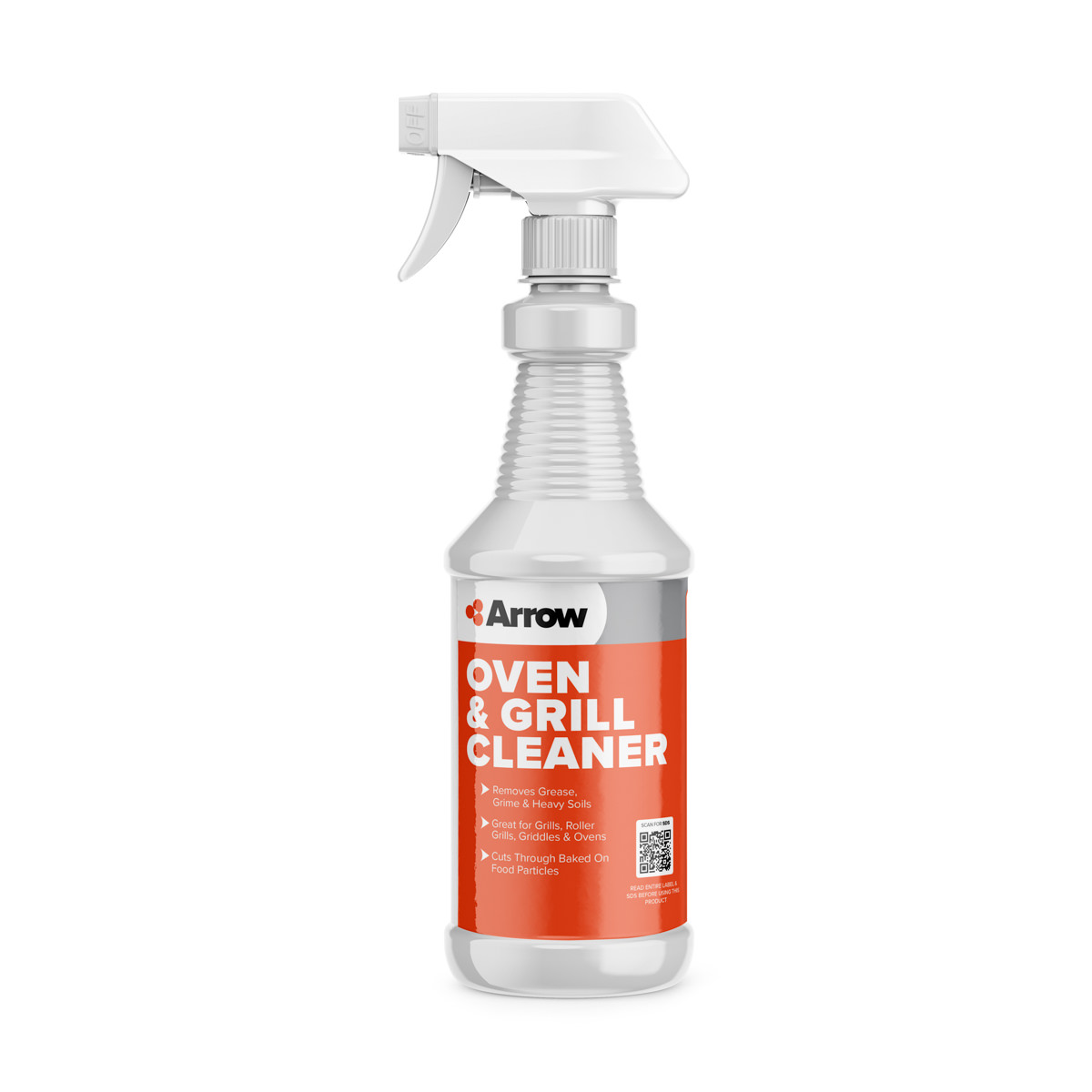 Arrow 136 Oven & Grill Cleaner Arrow's Oven & Grill cleaner offers food service and processing operations a versatile, ready-to-use solution for tackling the tough cleaning challenges on grills, roller grills, griddles, and ovens. The formula quickly...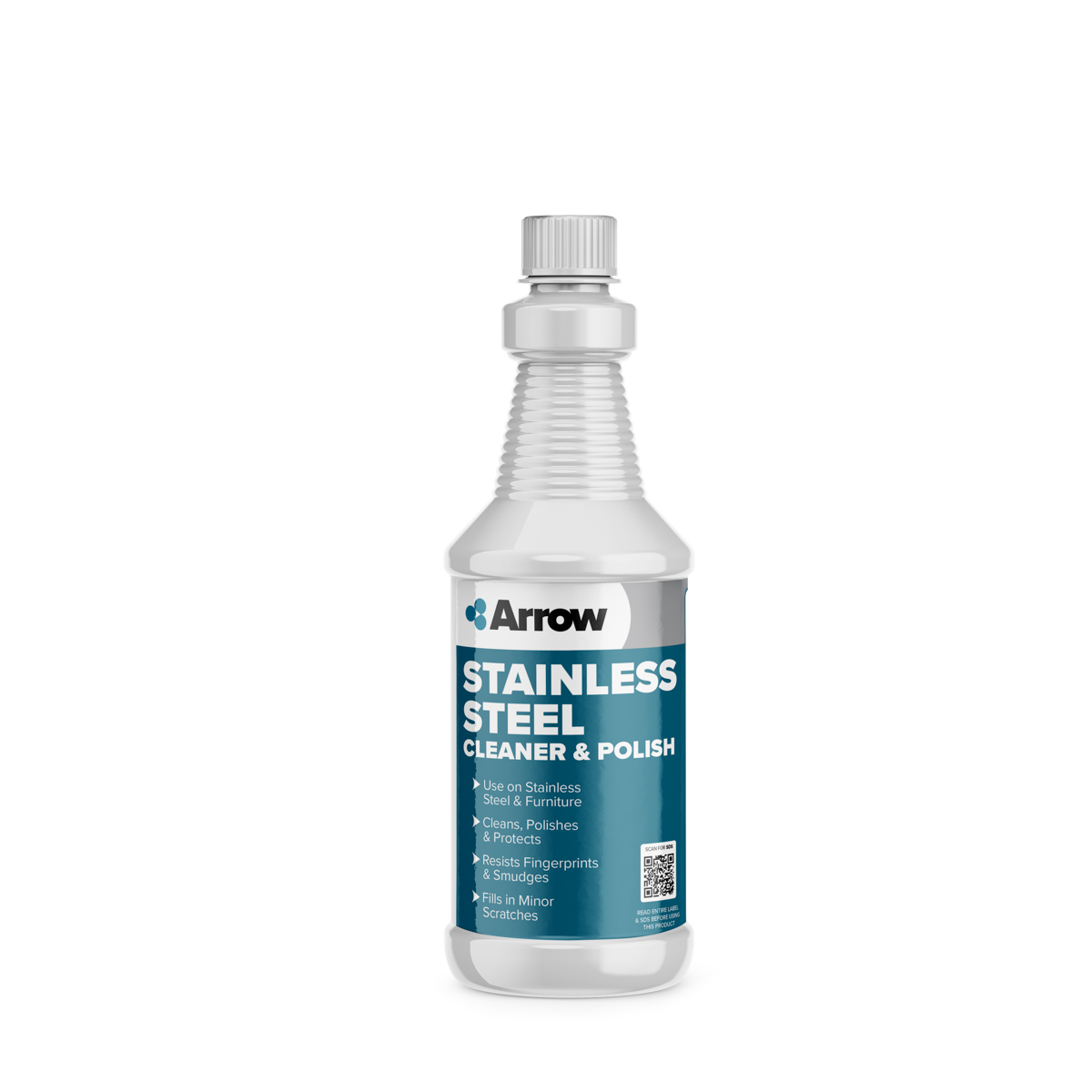 Arrow 170 Stainless steel Cleaner & polish When you need to clean, polish and protect, Arrow's Stainless Steel Cleaner & Polish delivers exceptional results! The multi-purpose solution easily removes old wax build-up and fills in minor scratches, leaving a...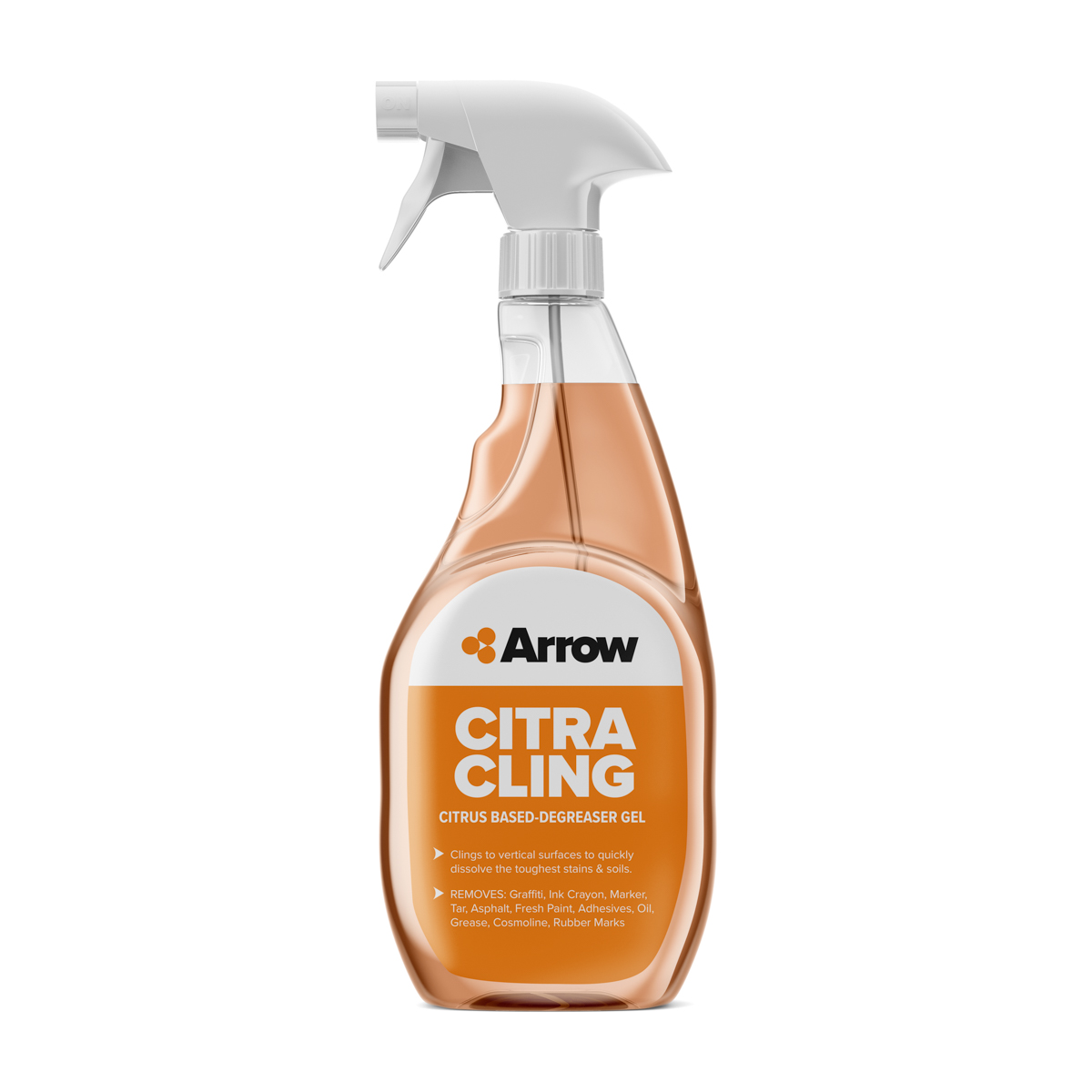 Arrow 245 CitraCling Citrus Based Degreaser Gel Arrow's CitraCling formulation clings to vertical surfaces, allowing for maximum cleaning power. Made with natural citrus ingredients, CitraCling is no lightweight and can tackle tough stains like baked-on grill or oven...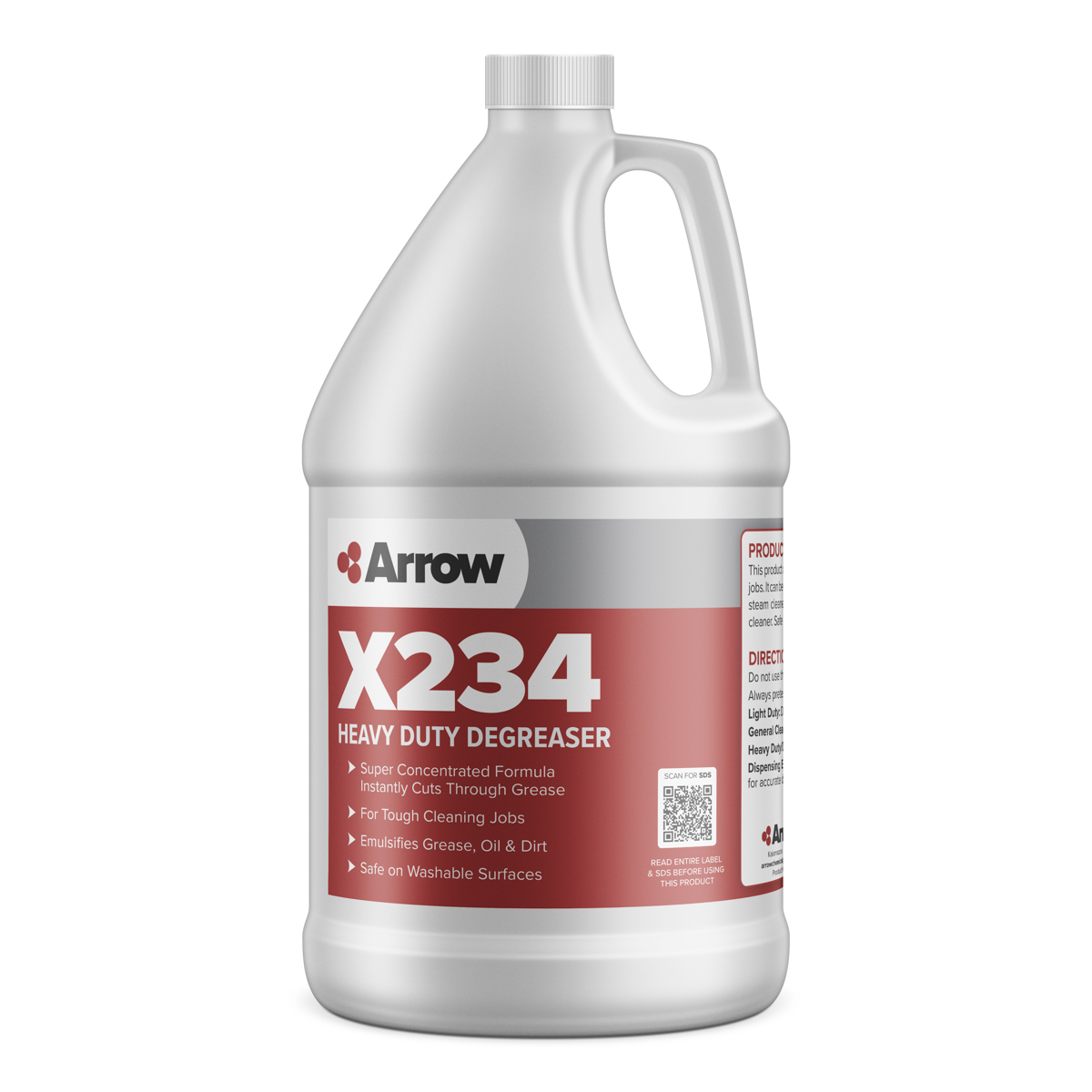 Arrow 234 X234 Heavy Duty Degreaser Arrow's X234 has a formula designed to tackle tough cleaning jobs by instantly dissolving and emulsifying heavy grease, oil, carbon deposits, rubber burns, ink, dirt, and grime. Ideal for pressure washers or automatic scrubbers. A...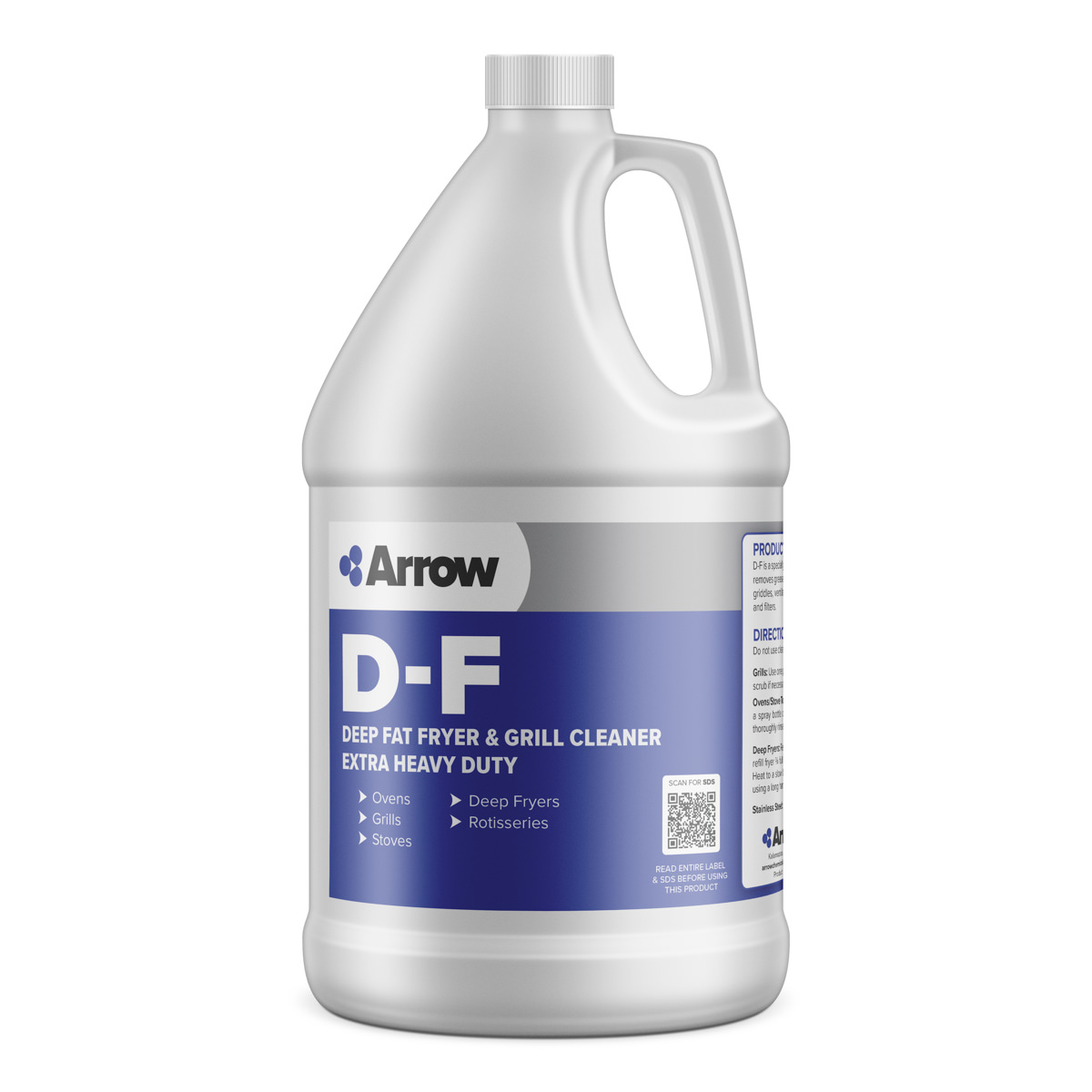 Arrow 138 D-F Deep fat fryer & grill cleaner extra heavy duty Arrow's specially formulated detergent for deep fat fryers and grills quickly removes grease and carbon. Fast and effective cleaner for a variety of surfaces including chrome, stainless steel, grills,...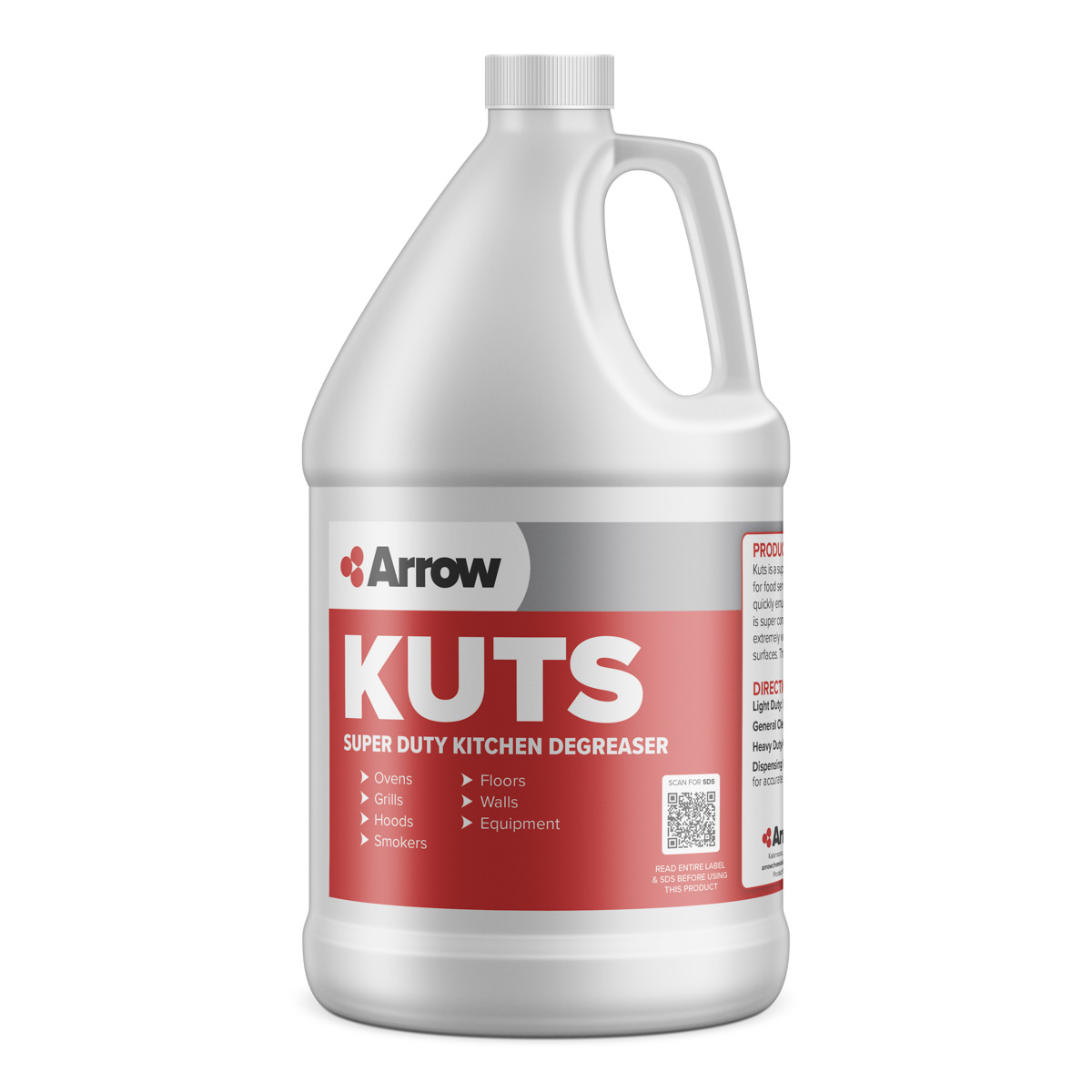 Arrow 135 Kuts Super duty kitchen degreaser Arrow's Super Duty Kitchen Degreaser is a liquid concentrate that easily KUTS grease, removes carbon and soil accumulation in vents, hoods, stoves, ovens, floors, walls, and more. Effective as a spray or wipe on solution for...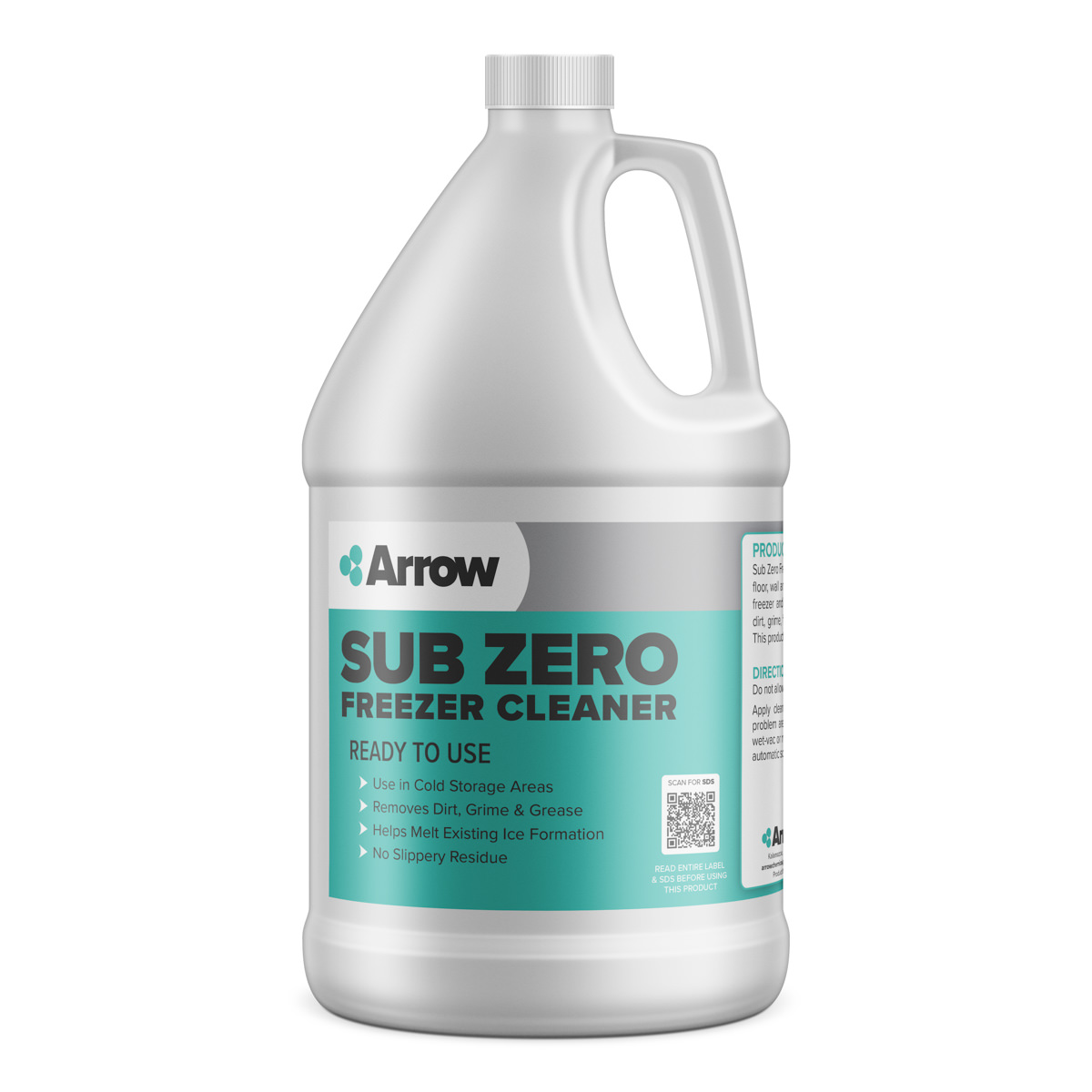 Arrow 134 Sub Zero Freezer Cleaner Ready to use Sub Zero Freezer Cleaner from Arrow is an aggressive, ready-to-use, floor, wall, and equipment cleaner to use in sub-freezing, freezer, and cold storage areas. Formulated to remove dirt, grime, fat, and grease deposits...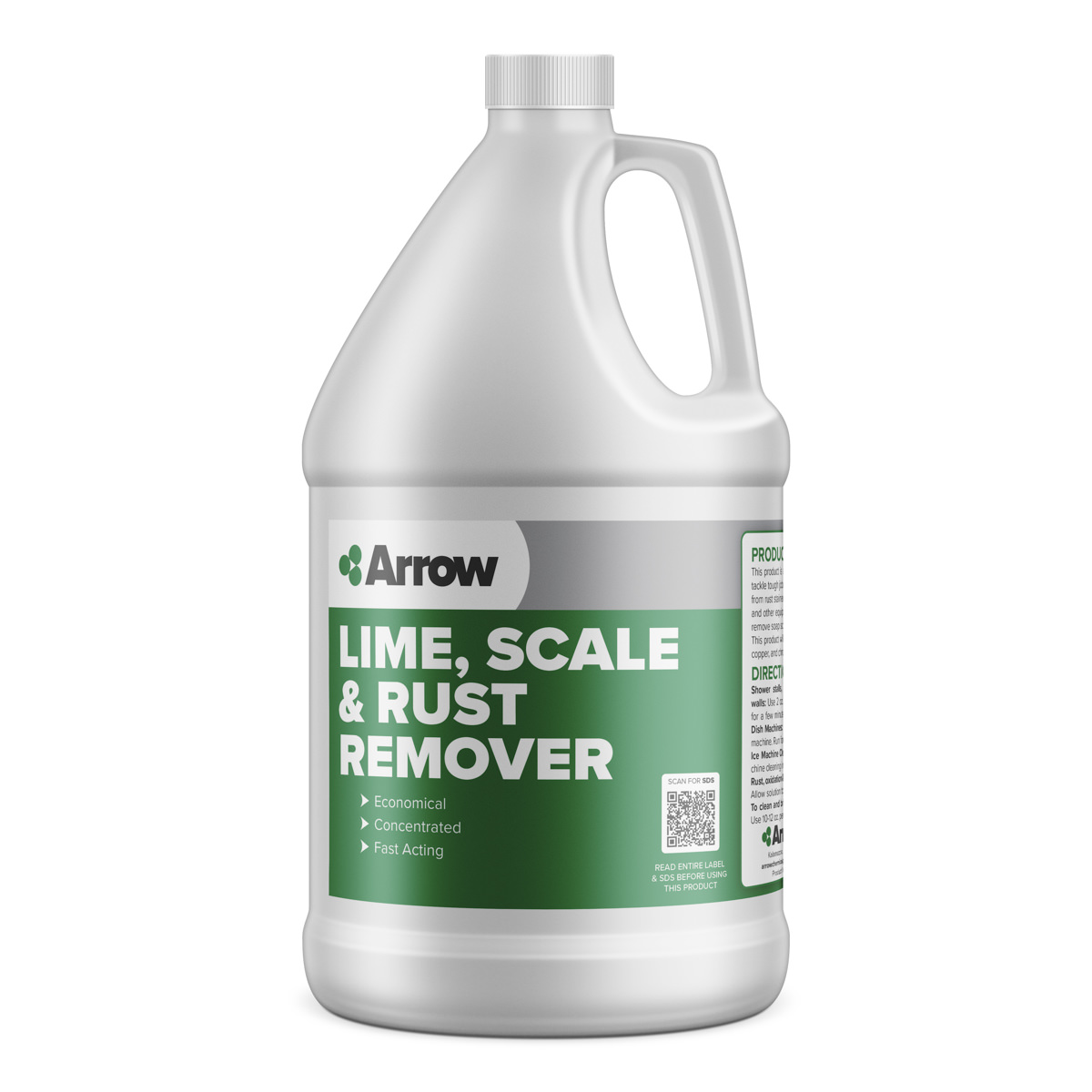 Arrow 115E LIME, SCALE & RUST REMOVER Arrow's Lime, Scale & Rust Remover delivers a concentrated blend of acid and detergent designed to tackle cleaning jobs. Formulated to remove iron, rust, scale and lime build-up from stained surfaces and metal including...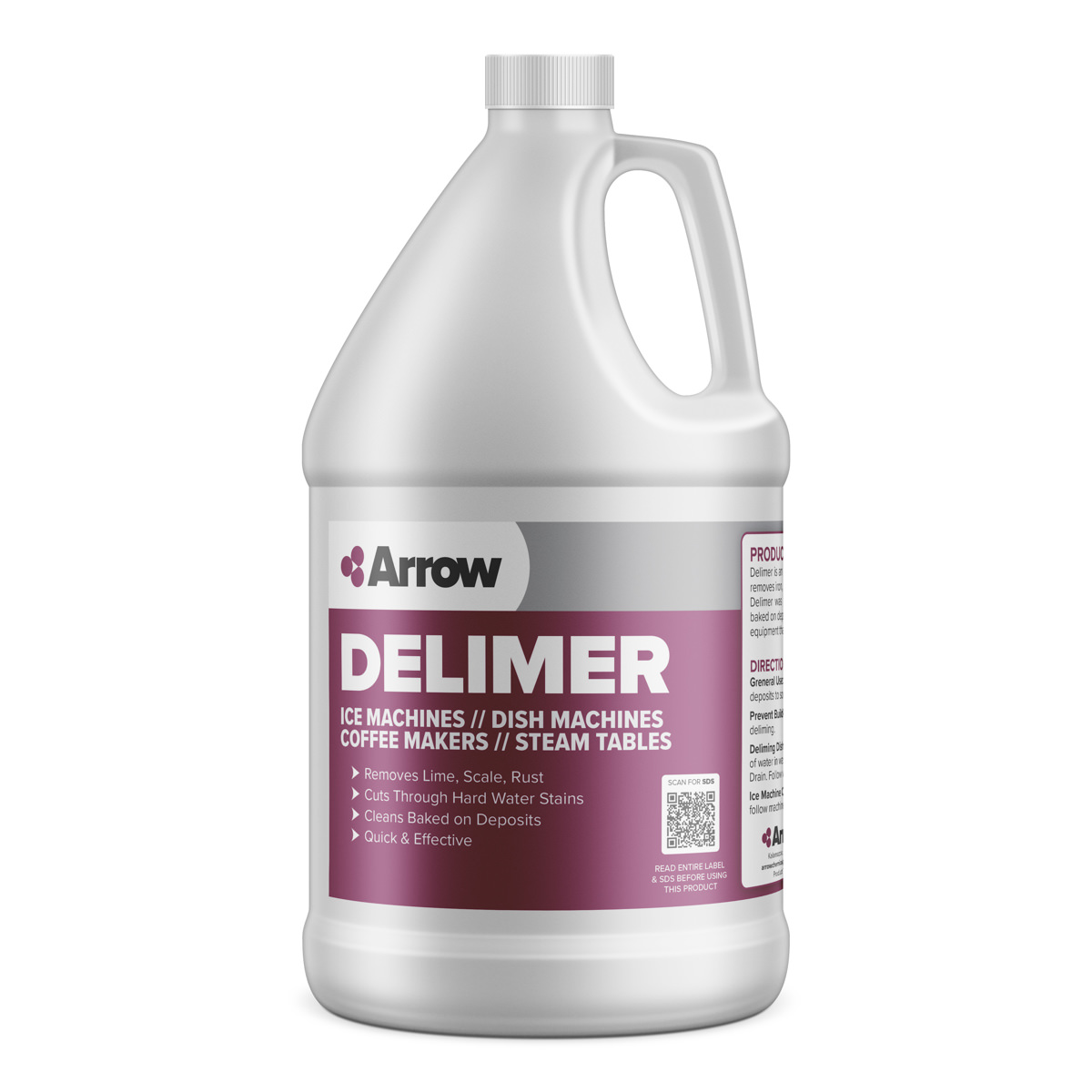 Arrow 115 DELIMER Arrow's Delimer tackles any surface with iron, rust oxidation, hard water stains, or soap scum. Formulated to neutralize and remove lime and baked on deposits from steam tables, dishwashers, and other equipment that has been exposed to high...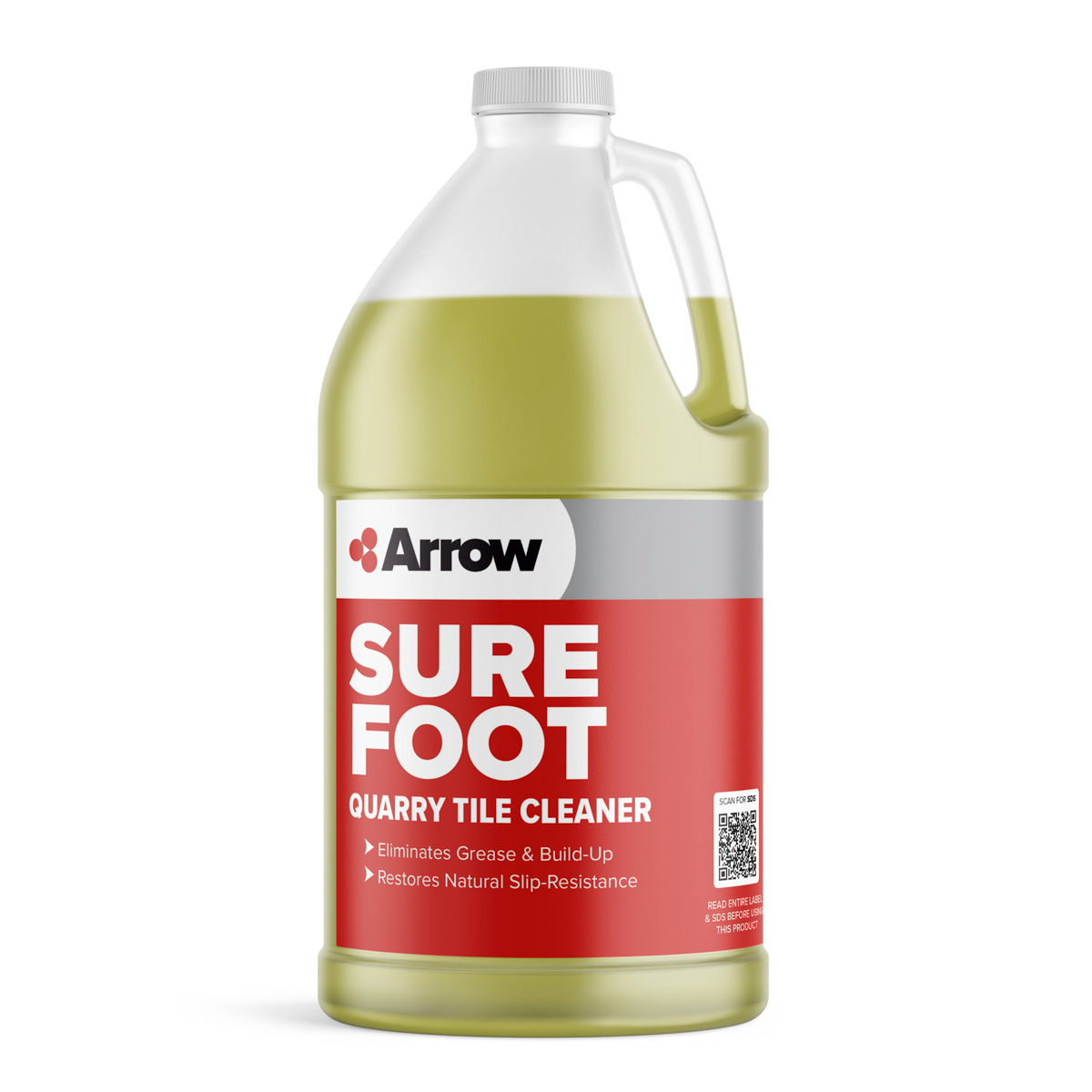 Arrow 244 Sure Foot Quarry Tile Cleaner Arrow's highly concentrated cleaner/degreaser for quarry tile and concrete floors eliminates grease build-up that can cause slippery floors. The Sure Foot Quarry Tile Cleaner formulation penetrates tile and returns porousness...