Carpet, Upholstery, and Laundry Care
Protect fabrics, carpet, and clothing and get the clean you need with complete cleaning solutions from Arrow. Choose from a range of liquid and powdered carpet, upholstery, and laundry care products formulated to deliver deep cleaning and deodorizing.
Carpet Shampoo
Arrow's rug, carpet, and upholstery cleaners are versatile solutions that extend fabric life.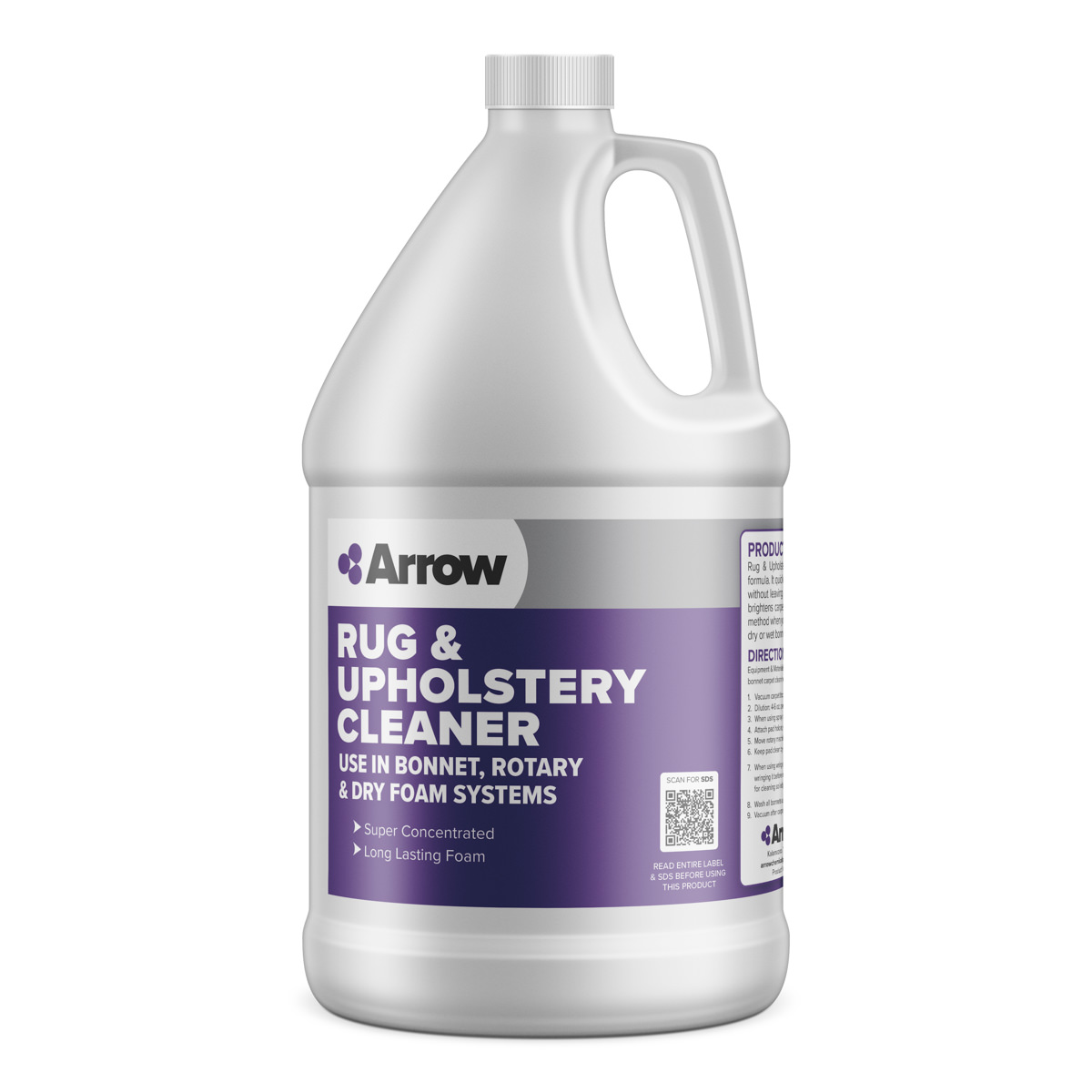 Arrow 461 Rug & Upholstery Cleaner Arrow formulated a liquid synthetic based shampoo to effectively clean modern fabrics. The rich, long-lasting drier foam quickly removes oil and grease, lifting dirt and suspending it for easy vacuuming. Super concentrated;...
Extraction & Truck Mount Carpet Cleaning Solutions
A line-up of carpet cleaning solutions from Arrow for spot-cleaning or dry foam, rotary, and bonnet cleaning systems.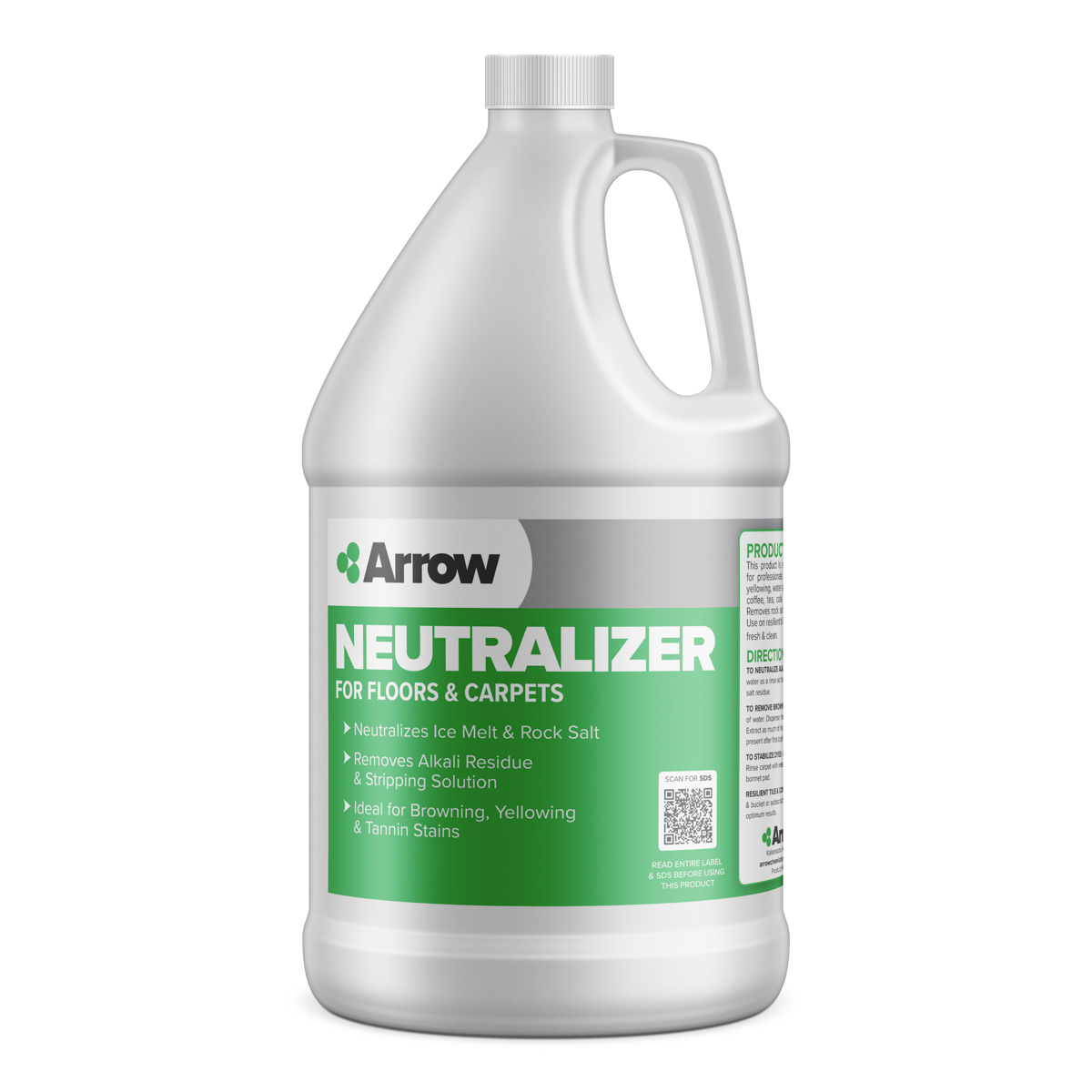 Arrow 314 Neutralizer For floors & carpets Neutralizer from Arrow is a concentrated advanced floor neutralizer designed to remove alkaline residue from resilient tile and other floor surfaces after stripping. Virtually odorless, Arrow's Neutralizer easily removes...
Laundry Cleaning Solutions
Powdered and liquid laundry cleaning solutions from Arrow can handle mild to heavy-duty cleaning. Get results from products formulated to deliver clean across any type of fabric.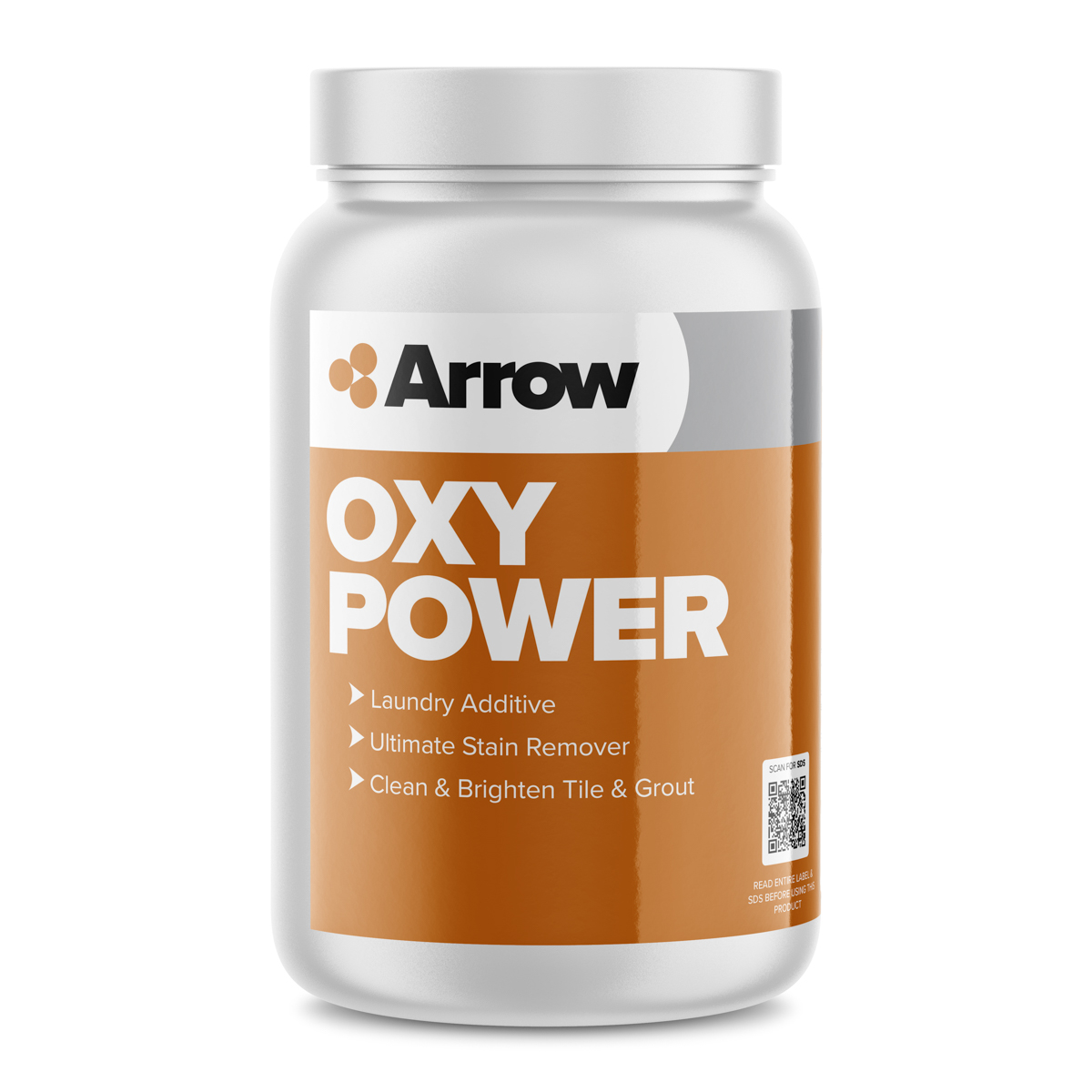 Arrow 499 Oxy Power Planet Care Oxy Power from Arrow is a powerful, multi-purpose stain remover, color brightener, deodorizer, and mold and mildew remover. The powered formula is safe to use all washable fabrics and surfaces including carpets, countertops, and shower...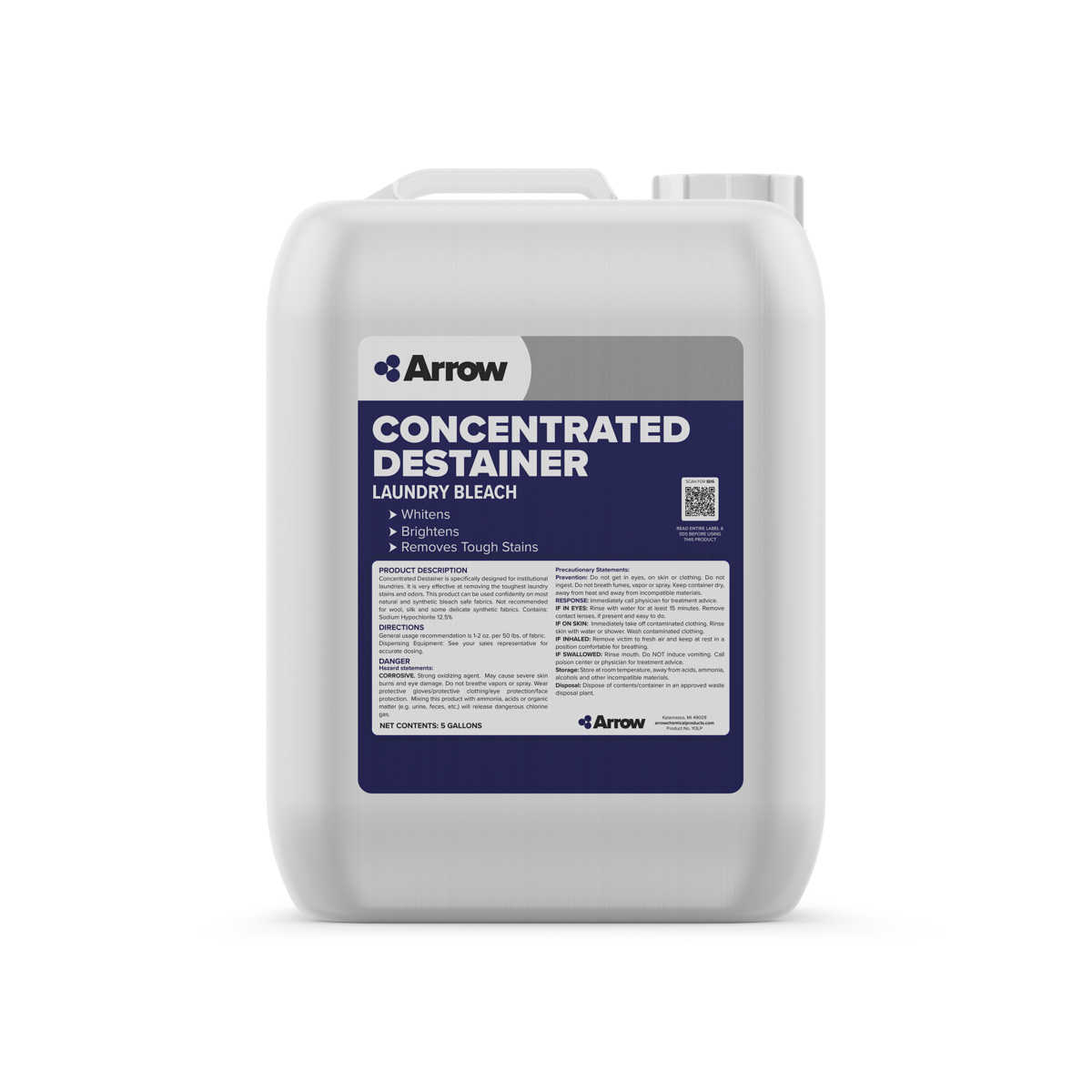 Arrow 113LP Concentrated Destainer Laundry Bleach Concentrated Liquid Bleach and Destainer from Arrow effectively removes tough laundry stains and odors on most natural and synthetic bleach-safe fabrics. The formula is specifically designed for institutional...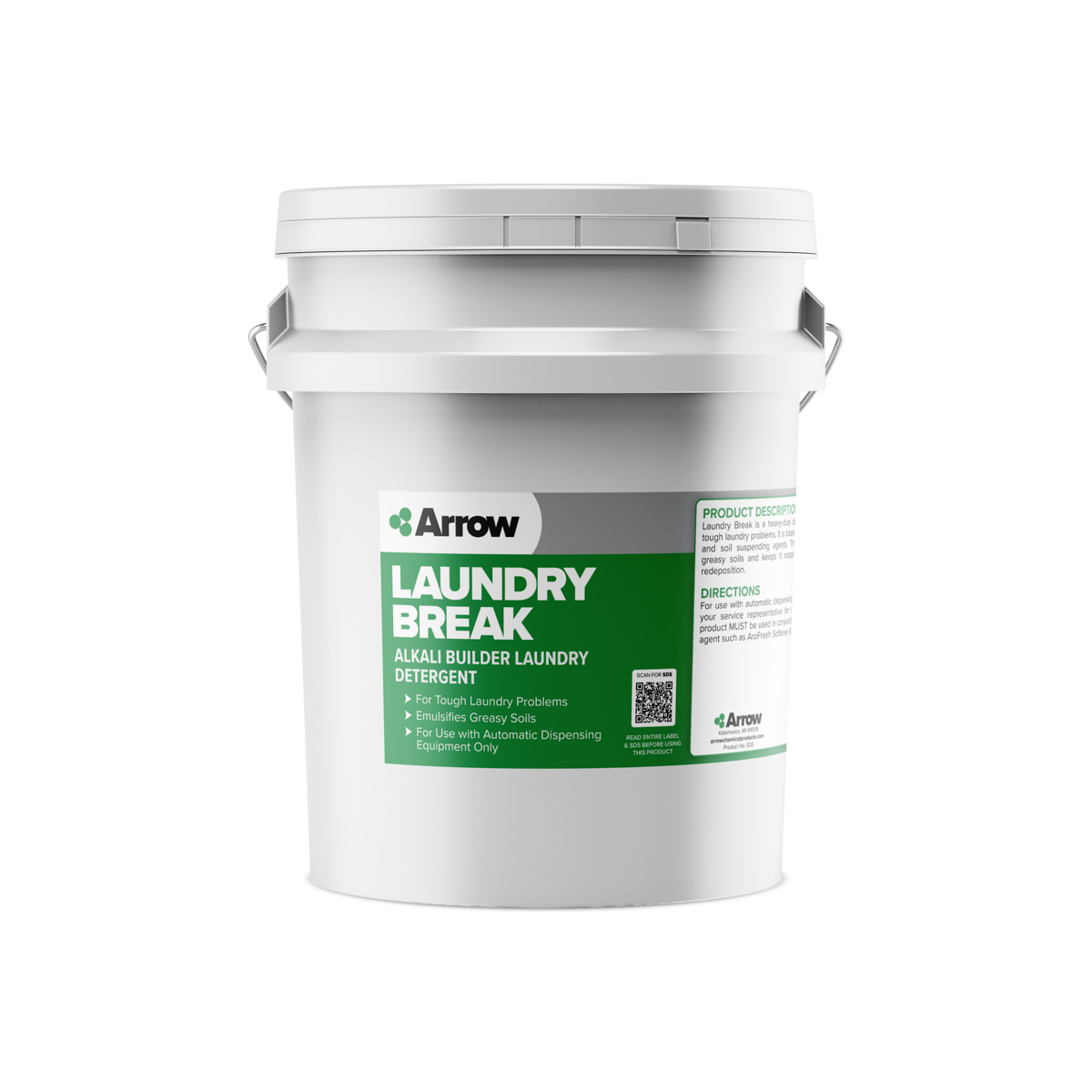 Arrow 826 Laundry Break Alkali Builder laundry detergent Arrow's Laundry Break is a powerful, heavy-duty liquid solution specifically designed to handle the toughest laundry problems. The formula contains alkaline builders and suspending agents to emulsify greasy...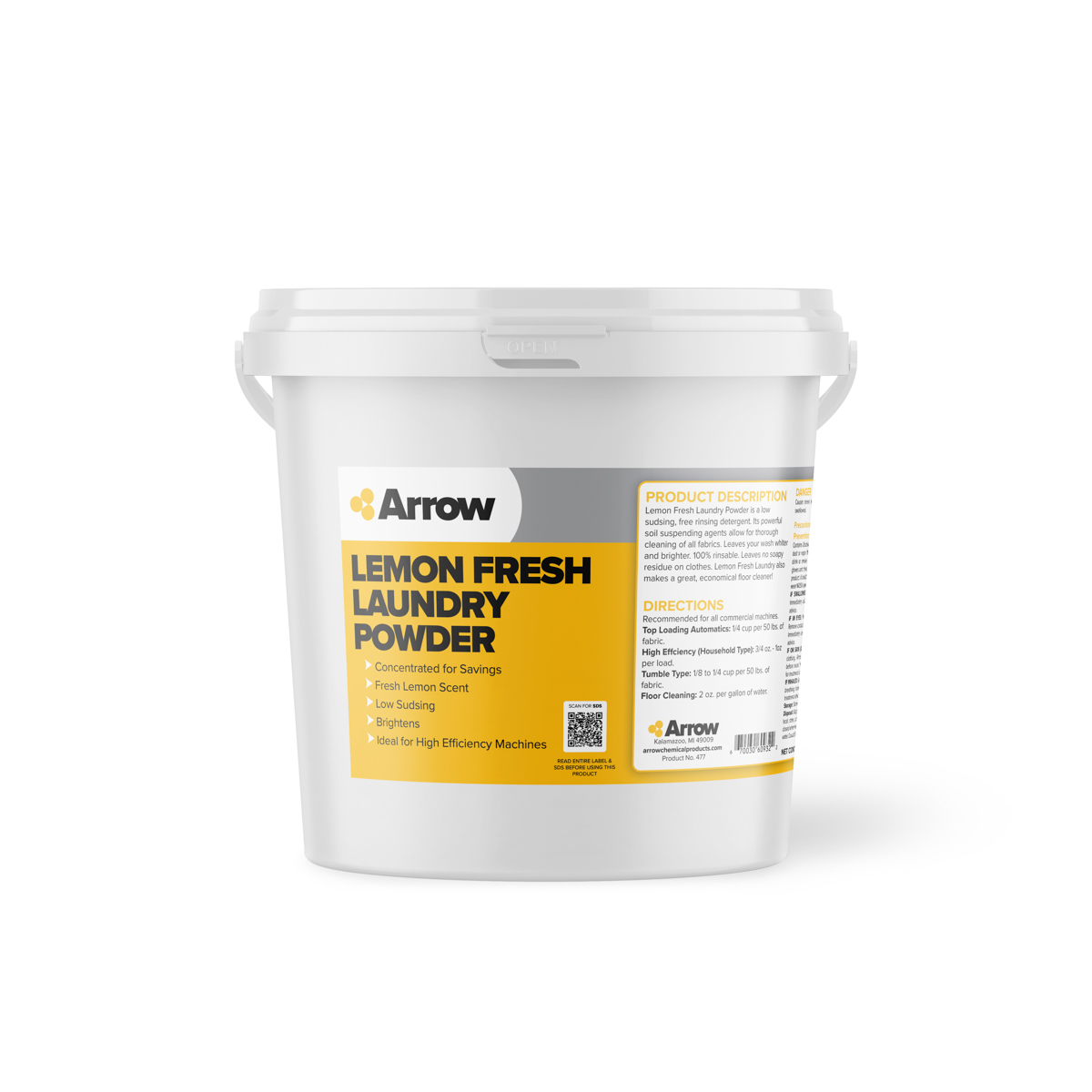 Arrow 477 Lemon Fresh Laundry Powder Arrow's Lemon Fresh Laundry Powder is a concentrated, economical, brightly scented powder. The formula contains powerful soil suspending agents and controlled suds to facilitate proper washing and thorough rinsing action. Prevents...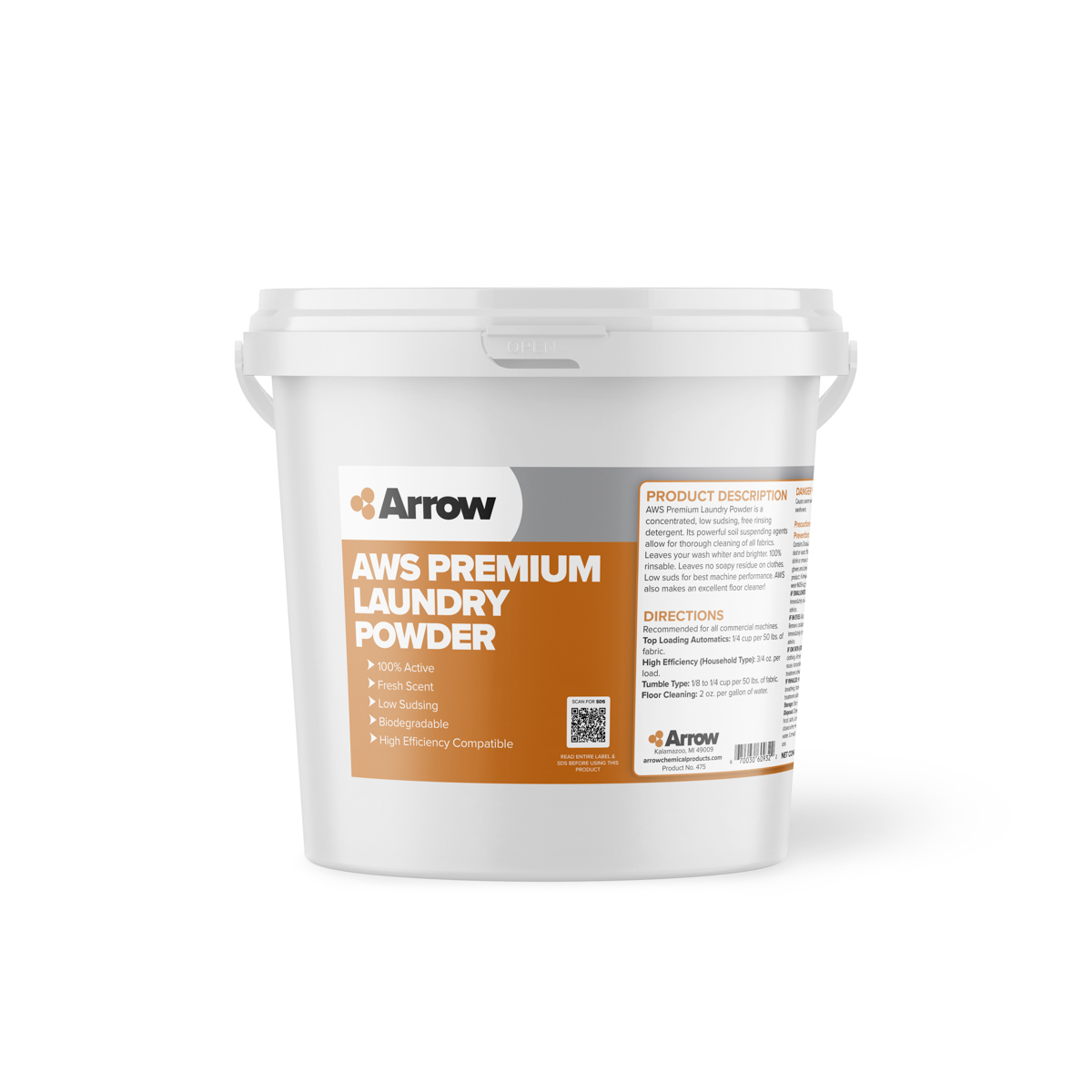 Arrow 475 AWS Premium Laundry Powder AWS Premium Laundry Powder provides concentrated, quality cleaning at an affordable price. Arrow's formulation is a low sudsing, low phosphate, free-rinsing detergent that cleans tough stains on without damaging fabrics. Whiten and...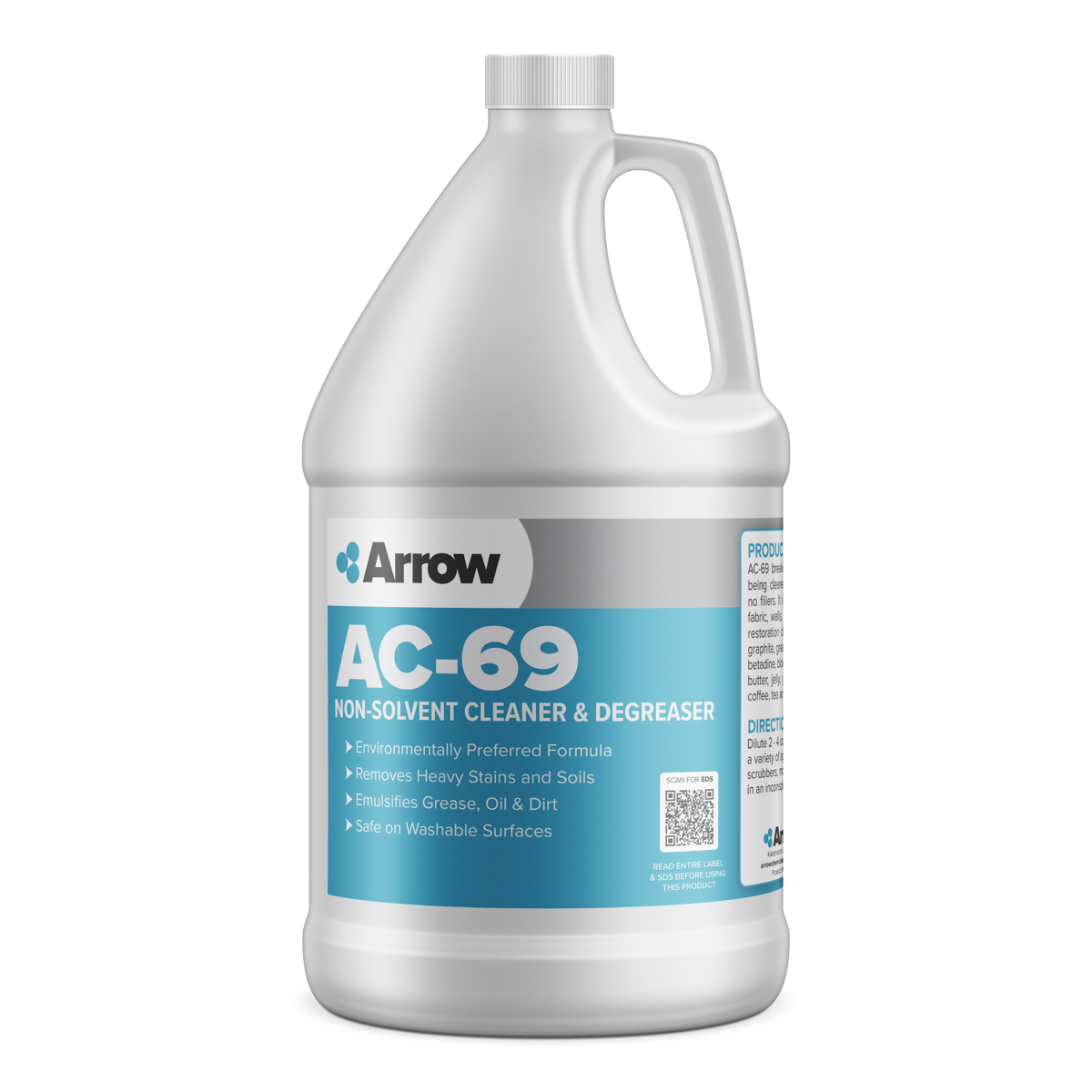 Arrow 269 AC-69 Non-Solvent Cleaner & Degreaser AC-69 from Arrow is the superior non-solvent cleaner in the SaferChoice* label. The liquid cleaner breaks the bond between the dirt and the surface without solvents, butyls, phosphates, caustics, acids, or...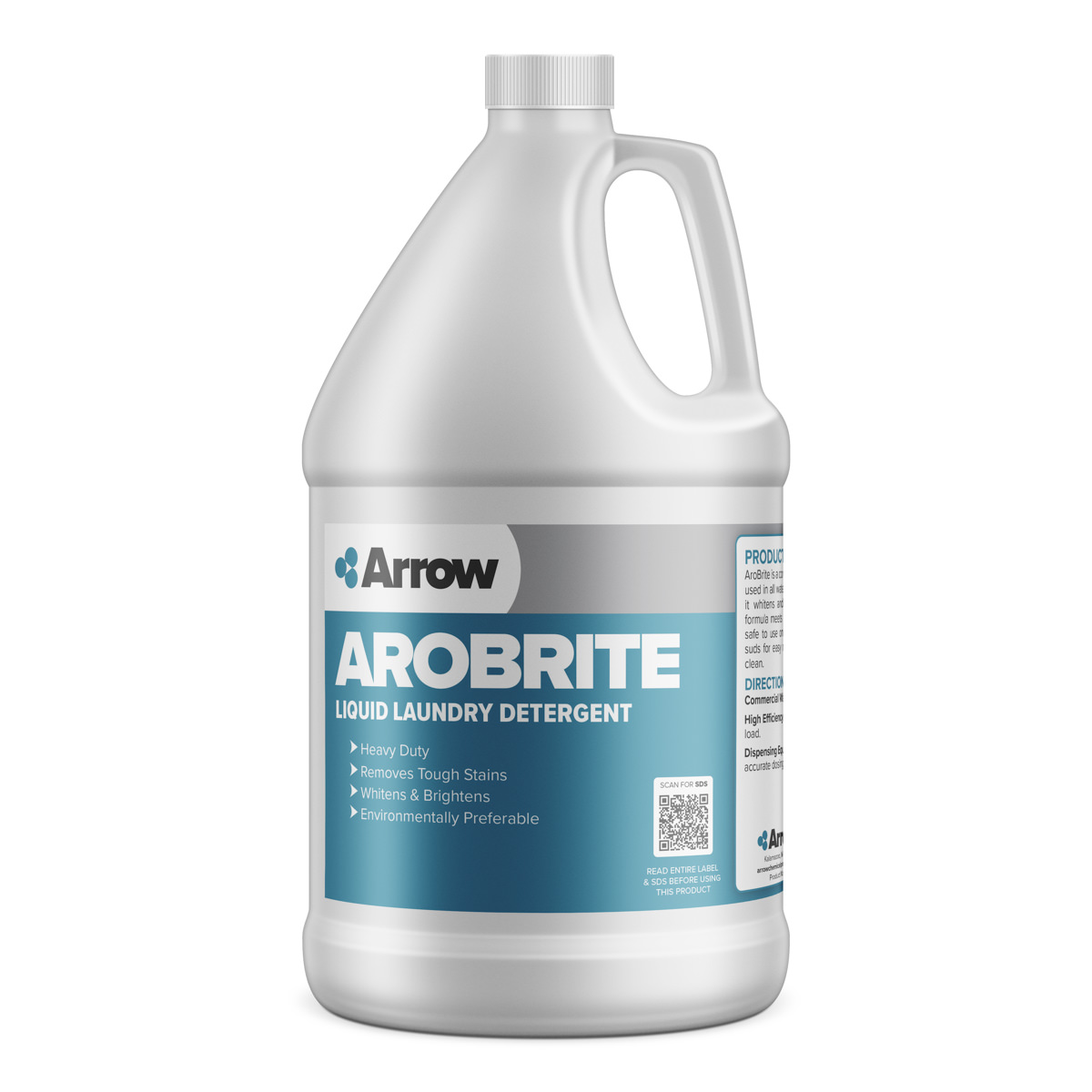 Arrow 476 AroBrite Liquid Laundry Detergent AroBrite Planet Care Liquid Laundry Detergent is a highly concentrated, heavy duty solution in the Safer Choice* Label. Effective in all temperatures, and powerful enough to remove stubborn dirt and stains, AroBrite gently...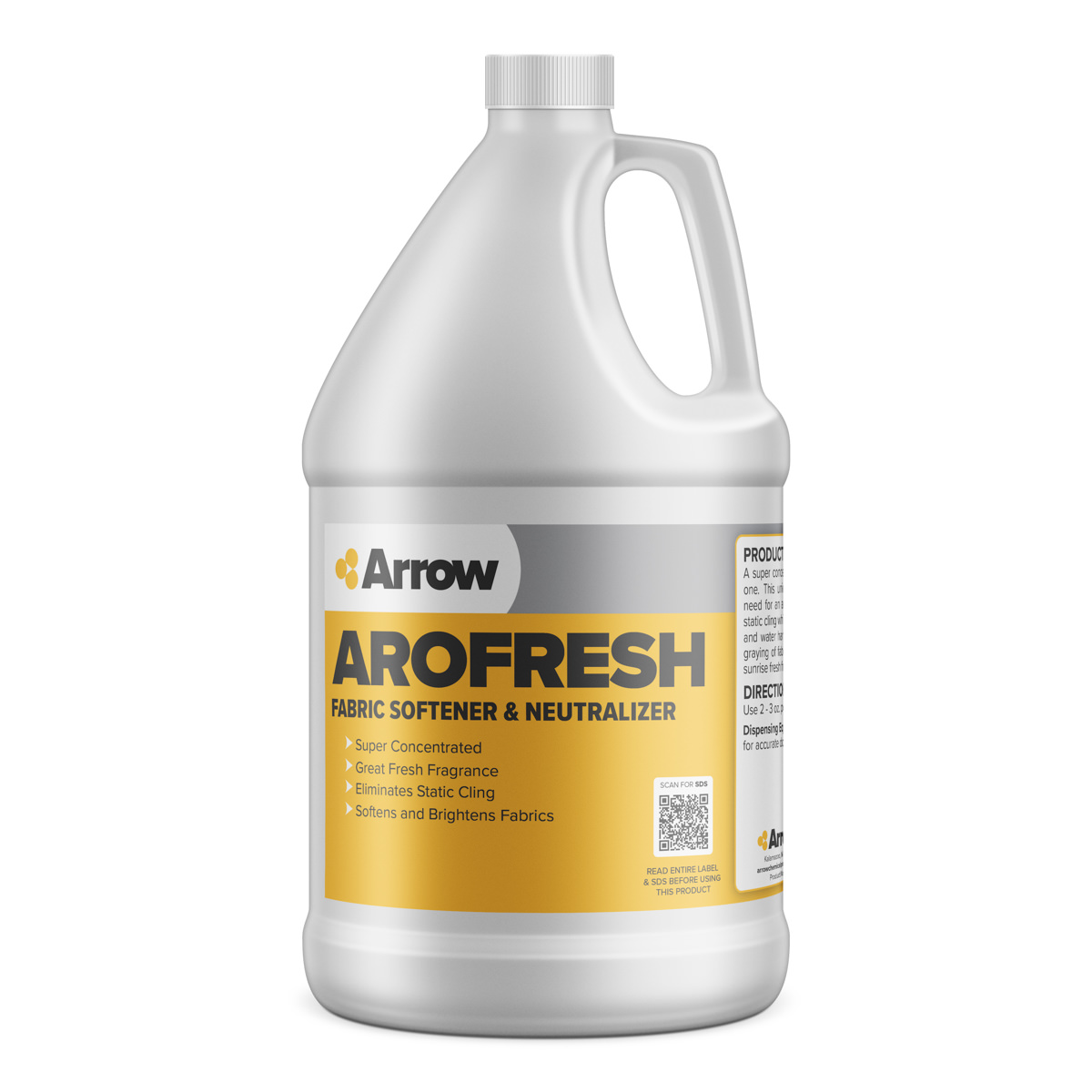 Arrow 473 AroFresh Fabric Softener & Neutralizer The unique, concentrated formulation of Arrow's AroFresh Fabric Softener and Neutralizer eliminates static cling while tackling detergent residues and water hardness minerals that yellow and gray fabrics. The...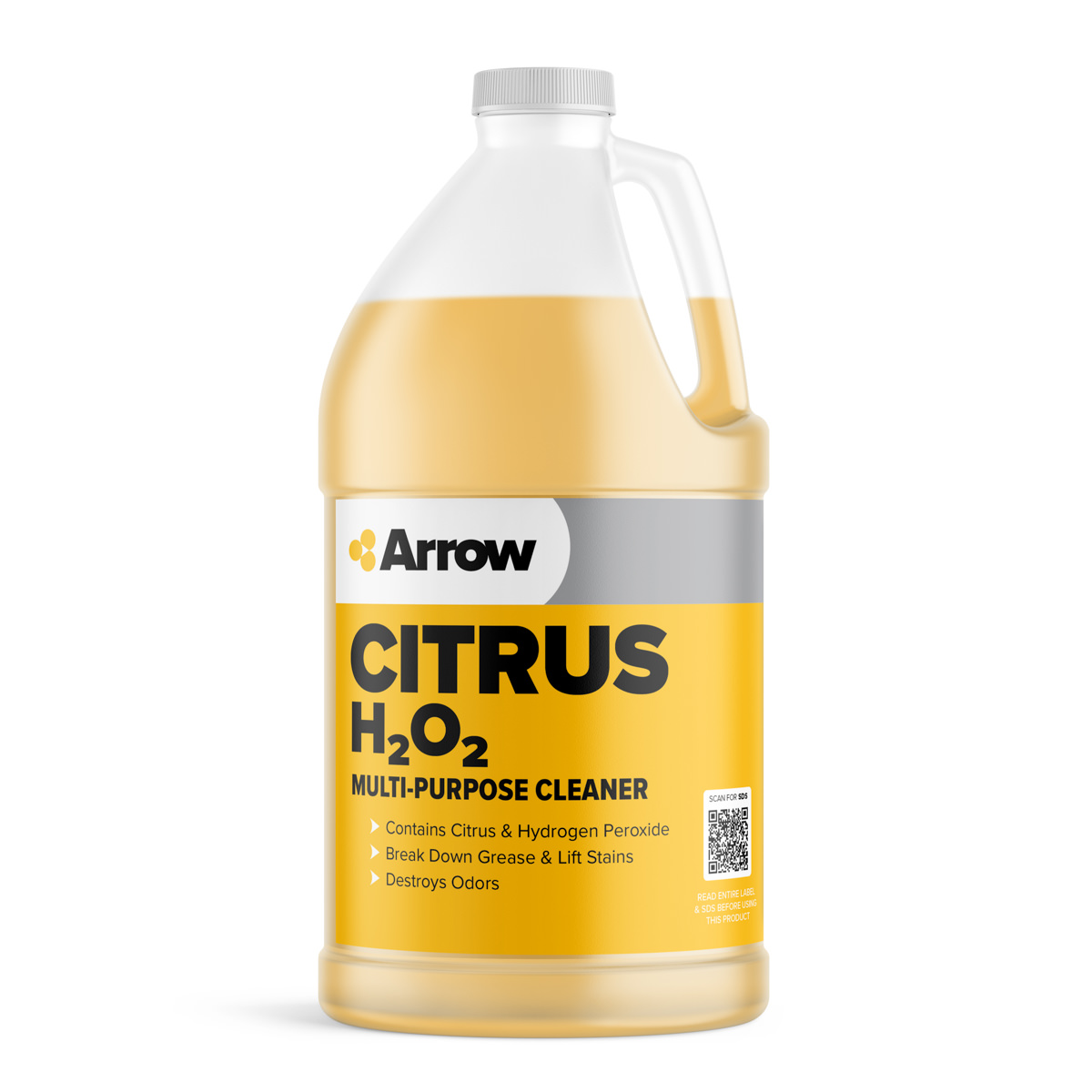 Arrow 246 CITRUS H2O2 MULTI-PURPOSE CLEANER Planet Care Citrus H2O2 from Arrow brings the power of citrus and hydrogen peroxide to tough cleaning challenges. The unique blend of natural citrus oils breaks down grease and grime, and the hydrogen peroxide adds...
Maintenance Cleaning Solutions
Arrow's versatile maintenance cleaning solutions are effective for a variety of surfaces, from floors to carpet, upholstery, and tough-to-clear areas where odor removal is essential to a healthy environment.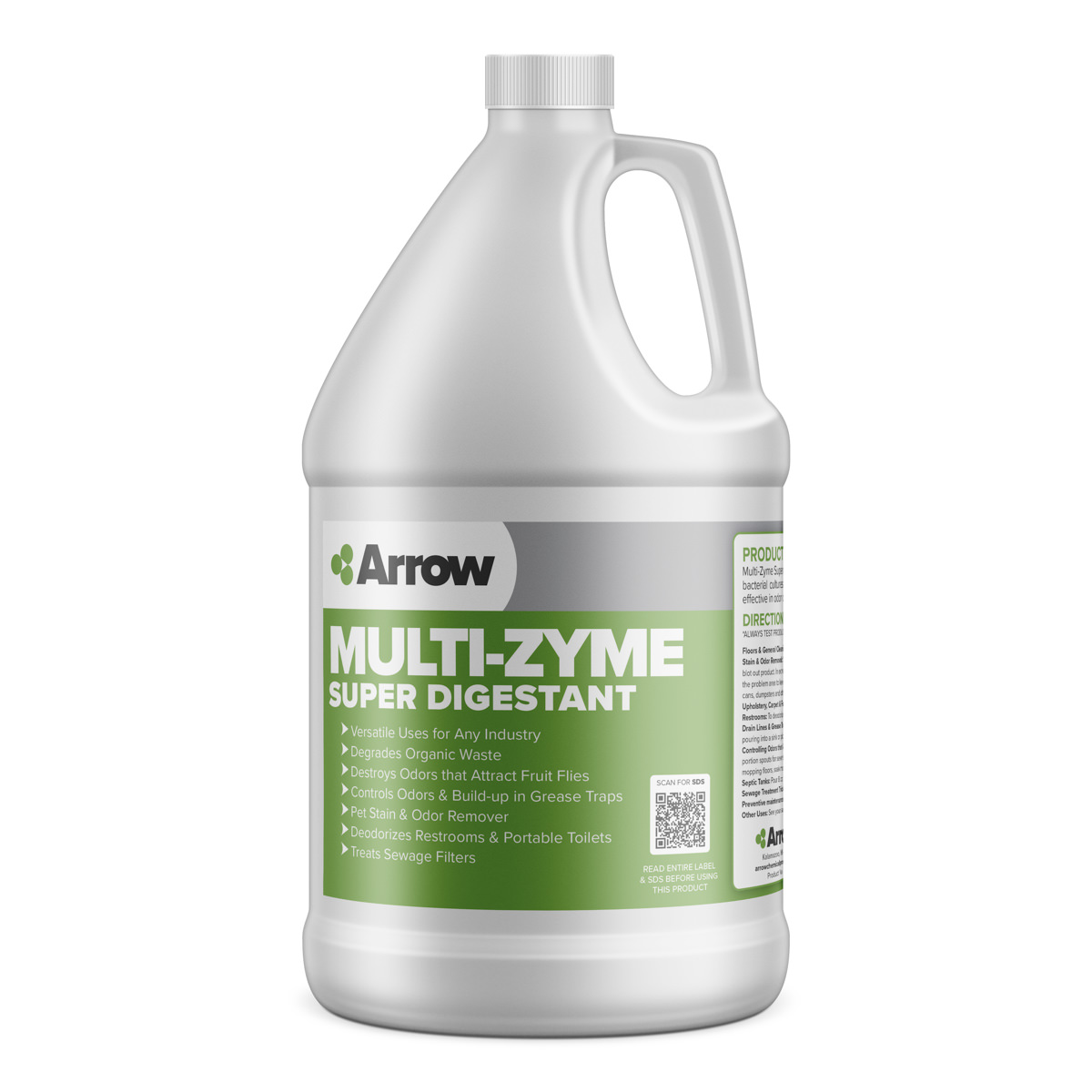 Arrow 436 Multi-Zyme Super Digestant Arrow's Multi-Zyme Super Digestant is a multi-purpose enzymatic cleaner that's extremely effective for controlling odor and degrading organic waste. The formula is a special blend of enzyme producing bacterial cultures and...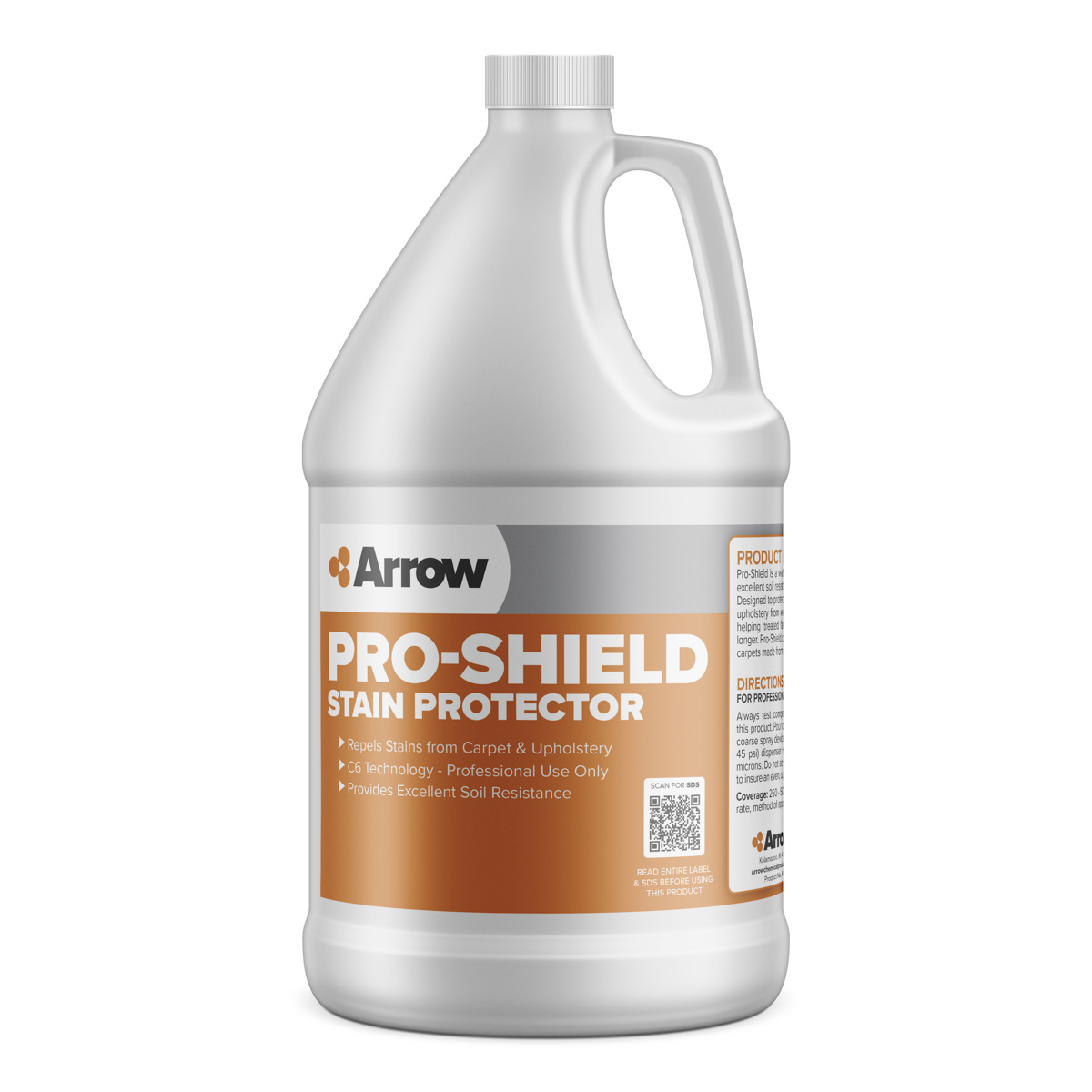 Arrow 468 Pro-Shield STAIN Protector Arrow's Pro-Shield Stain Protector is a water and oil repelling finishing agent that provides excellent soil resistance on carpets, leather and upholstery fabrics. Designed to protect home, commercial furnishings and automotive...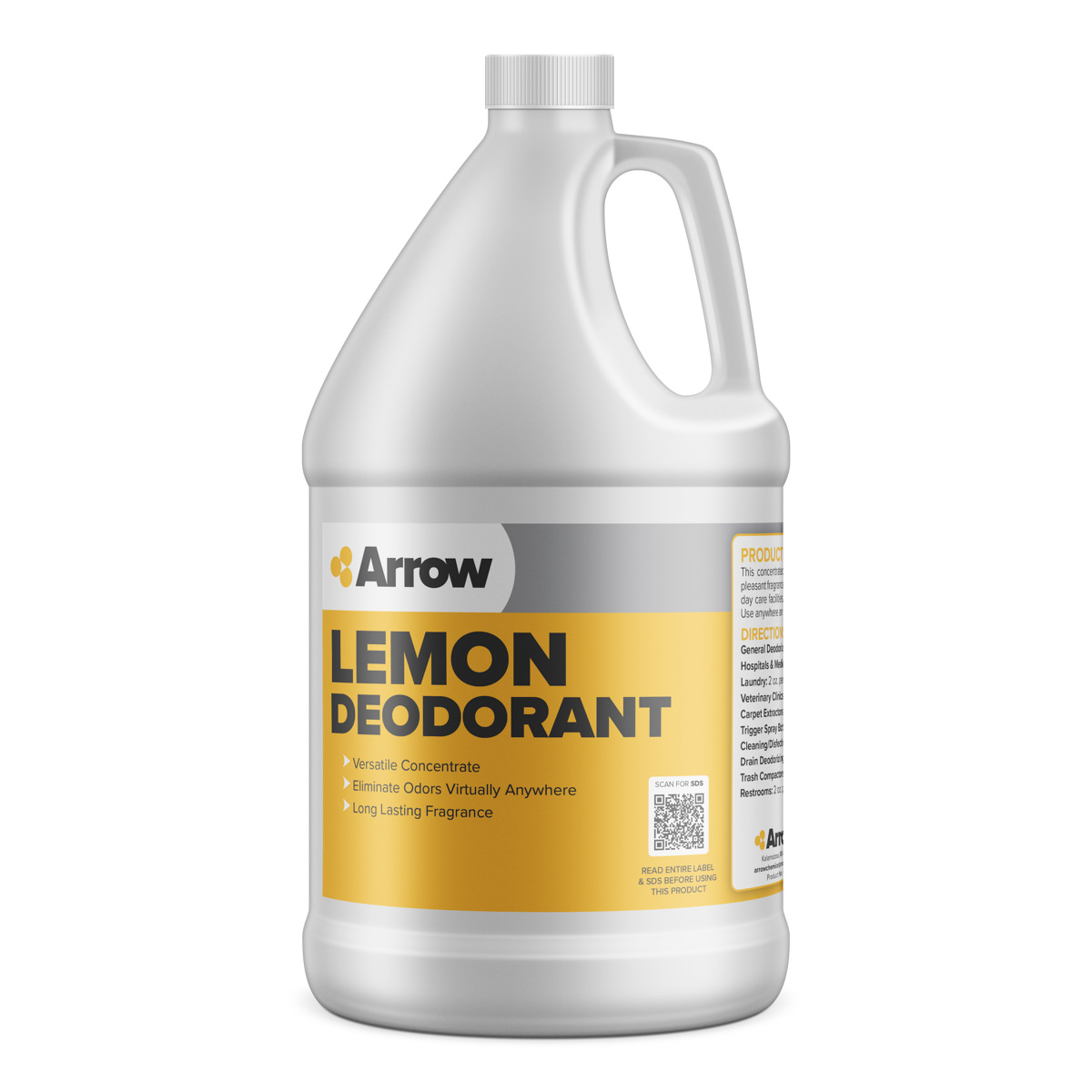 Arrow 434 LEMON DEODORANT Lemon Deodorant from Arrow is a super-concentrated odor neutralizer. Use in carpet cleaning solutions, mop water, as an air spray, and for general deodorizing. Eliminates malodors instantly and leaves a fresh, natural fragrance behind, vastly...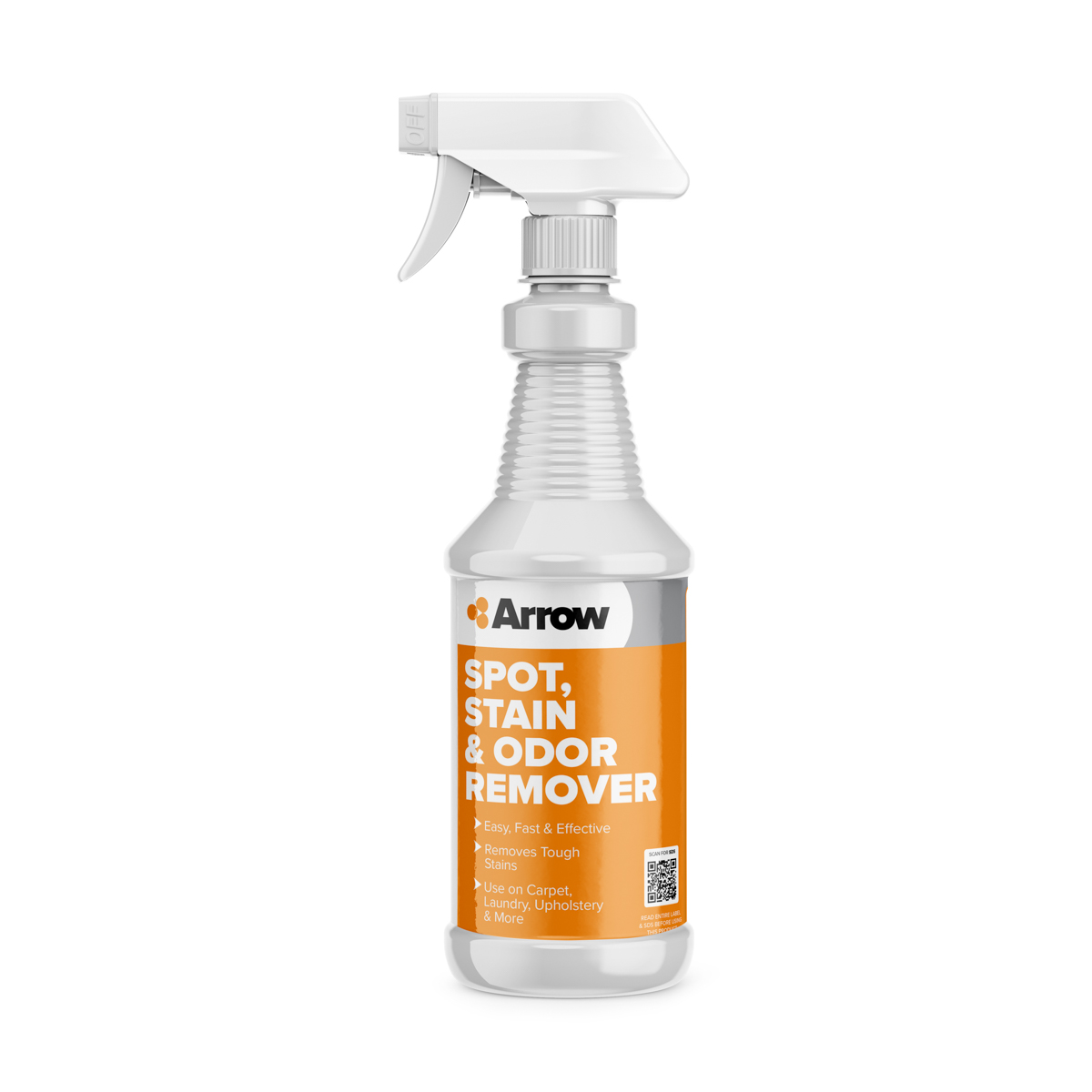 Arrow 432 Spot, Stain & Odor Remover Arrow's Spot, Stain & Odor Remover is an easy-to-use, all-purpose carpet and upholstery spotter that combines detergent and deodorant to remove most spots and stains. Use as a traffic lane pre-spray or spot and stain...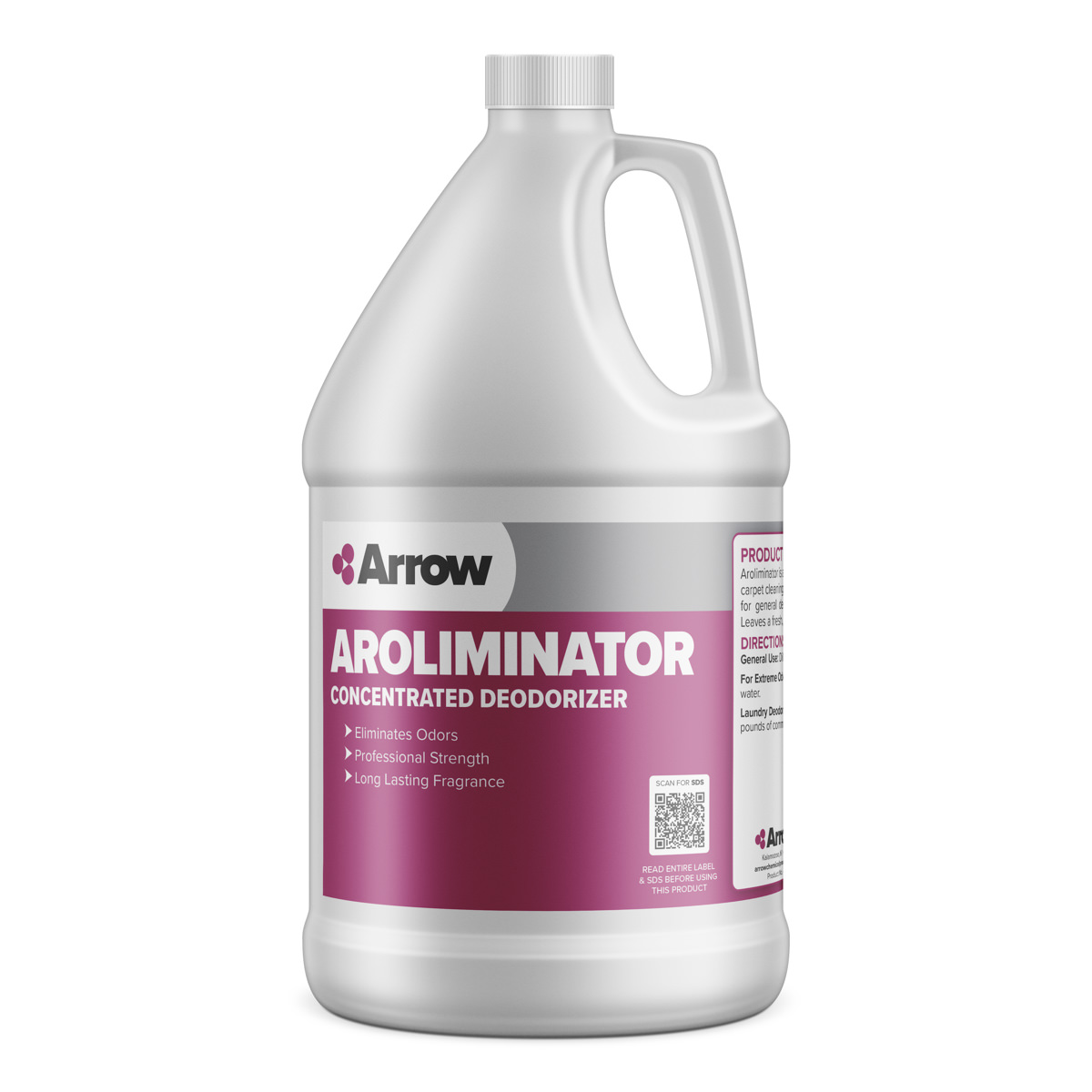 Arrow 437 Aroliminator CONCENTRATED DEODORIZER Aroliminator from Arrow is a versatile, highly concentrated odor counteractant. Ideal for use with carpet cleaning solutions, in mop water, as an air spray, or for general deodorizing. The fresh, natural, long-lasting...